Posted on
Mon, Feb 11, 2013 : 3:01 p.m.
Ypsilanti 11-year-old competing for spot on ABC celebrity diving show 'Splash'
By Jenn McKee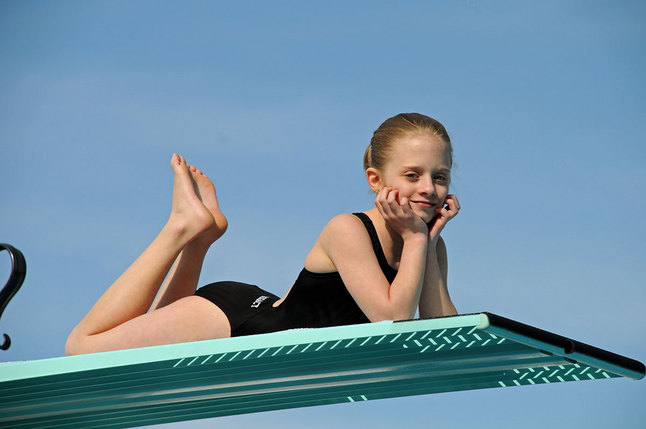 Photo courtesy of Mary Crawford
Though ABC's new diving reality show "Splash" is reportedly an aquatic spin on "Dancing with the Stars," Ypsilanti 11-year-old
Mackenzie Crawford
has been invited to audition to appear on the program, which is slated to premiere on March 19.
Starring famed diver Greg Louganis, the show features a cast of celebrities, including Detroit Lions defensive tackle Ndamukong Suh—who recently made news when he helped struggling castmate Louie Anderson out of the pool.
So what role might Mackenzie Crawford play?
"We don't know yet," said Mackenzie's mother, Mary Crawford. " … We were talking to Mackenzie about it, and her brother, who likes everything to be straightforward, asked, 'What are they going to have you do?' and her response was, 'It doesn't matter.' … There are a lot of rumors flying around about what the kids will do, but we don't know."
Photo provided by Mary Crawford
An initial casting call email from the show's producers, distributed by
USA Diving
, had a subject heading that read "ABC's New Celebrity Diving Show 'Splash' is Looking for Divers for its Group Performances," but reality-show producers have been known to cast a false lure while casting. (Read
AnnArbor.com's story about an Ypsilanti Jazzercise instructor's appearance on A&E's "Be the Boss"
for proof of that.)
Regardless, things have proceeded quickly, considering Mackenzie submitted her email application, with photos and videos, on Feb. 1. Initially, she was scheduled to audition in Columbus, Ohio on Thursday, Feb. 7. However, just as Mackenzie's family approached Columbus by car last week, they received a phone call from "Splash" producers, explaining that due to "technical difficulties," the auditions were being postponed. On Friday, the Crawfords got a call telling them that Mackenzie's audition would be re-scheduled for this week.
The Crawfords are guessing—based on the number of audition times available—that more than 30 kids will be auditioning for the show.
"The actual audition in diving water will be 10 minutes, and prior to that, someone will interview (Mackenzie), and they'll take pictures," said Mary Crawford.
During the diving portion of her audition, Mackenzie will do 6 dives of her choice on any board.
"She's not someone that stresses out," said Mary Crawford of Mackenzie. "She competes at the national level, so she's not nervous at all."
Photo provided by Mary Crawford
Mackenzie, who attends school in Milan, is part of the
Legacy Diving
team, and is coached by EMU diving coach
Buck Smith
. (One of Mackenzie's Legacy teammates,
Jaina Gaudette
of Windsor, will also be auditioning for "Splash.")
Mackenzie won three events (1 meter, 3 meter and platform) at the 2012 USA Diving Zone championships; and she placed 4th on platform, 5th on the 1 meter, and 8th on the 3 meter at the 2012 USA Diving Junior Championships. But what launched Mackenzie's initial ambition at age 5 was watching her two older siblings dive.
"Our son, especially - he's 17 years older than Mackenzie - he was diving when Mackenzie was just a toddler, and she idolized her older brother," said Mary Crawford. "So since she was 2 years old, she wanted to be a diver. We were like, 'You might want to learn swimming first.' … But as far as she was concerned, she could swim, because she had her water wings on."
Mackenzie eventually relented and took five swimming lessons before Mary Crawford took her daughter to meet her coach, Smith. "She was adamant about being a diver," said Mary Crawford. " … I'm not sure he normally took kids that young on, but he let her try out, and I guess he saw that she was determined."
Jenn McKee is the entertainment digital journalist for AnnArbor.com. Reach her at jennmckee@annarbor.com or 734-623-2546, and follow her on Twitter @jennmckee.