Posted on
Fri, Dec 28, 2012 : 9:39 a.m.
Ypsilanti Jazzercise instructor to compete on A&E's 'Be the Boss'
By Jenn McKee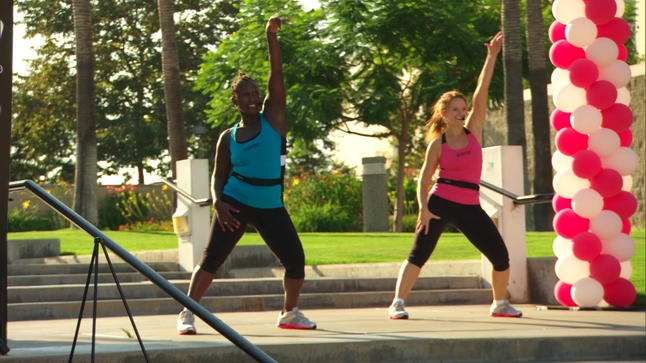 Photo provided by A&E
Ypsilanti's
Sophia Hubbard
, a Jazzercise instructor who's also a fourth-grade teacher at Erickson Elementary, will appear on an episode of A&E's new reality show, "Be the Boss," scheduled to run Dec. 30.
Hubbard will be at a party in Belleville—one of three places she teaches Jazzercise classes—with dozens of friends, students and family members when the show first airs; but she's a bit nervous about seeing herself on TV.
"I am really scared and really freaked out," said Hubbard. " … I hope I don't come off as too cocky or too sure of myself. … This is national. This is not just Ann Arbor and Ypsilanti. This is America, my home country, and my family in St. Lucia will be watching, too. But I'll be around people who love me. And in the end, everybody else around the world who might see the show—they don't really know me."
PREVIEW
"Be the Boss"
What: New A&E reality program that selects two lower-level company employees to compete for the keys to their own franchise. On the episode airing December 30. Ann Arbor Jazzercise instructor (and school teacher) Sophia Hubbard travels to Jazzercise company headquarters in Carlsbad, California for the most intense job interview of her life.
When: 11 p.m. Sunday, Dec. 30.
Each week, "Be the Boss" focuses on two lower-level company employees who are told they'll have the chance to compete for a senior management position, when in reality, they're vying for the keys to launching their own franchise. (Ann Arbor-based company
Molly Maid played a role in the Dec. 23 episode
of the show.)
At the beginning of the screening process, contestants have even less of a clue regarding the nature of the project.
"I got a call from my Jazzercise center in Ann Arbor, … and they told me that a production company was there doing interviews," said Hubbard. " … So I went in for an interview, but I didn't know what it was about. They asked me about … myself and about Jazzercise. I went in thinking it was about being part of a documentary about great American companies."
This initial interview happened the week before Labor Day, when Hubbard was in the midst of getting her classroom ready for the school year. And during the first week of school, the production company contacted Hubbard directly and said they wanted her to come out to Jazzercise headquarters in Carlsbad, Calif. for a week, in order to be more involved in the "documentary."
"I had to get permission from the school district," said Hubbard. "Going to California for a week meant being away from my kids for a week, and school had just started."
But Hubbard also felt wary because the production company, rather than anyone from Jazzercise, had been in contact with her about the project.
"My husband was really concerned," said Hubbard. "He kept asking me, 'Are you sure it's not a scam?' … A lot of our concerns were cleared up when I got an email from Jazzercise saying, yes, this production company is working with us."
Hubbard traveled to California, and during the course of filming the show, recruited sorority girls and worked to put together a video shoot.
"I can't talk in detail about the actual situations, but I can say … that week was challenging," said Hubbard. " … I'm 40 years old. I thought I knew me. But while doing this show, there were times when I felt like I wasn't really being myself. Like, 'Who is this person? Who's the real Sophia?' It was very eye opening."
Jenn McKee is the entertainment digital journalist for AnnArbor.com. Reach her at jennmckee@annarbor.com or 734-623-2546, and follow her on Twitter @jennmckee.