EVERYTHING ELDERLY
HEALTH:

When choosing a rehabilitation facility, visit and decide if it feels right for you

Posted on Tue, May 29, 2012 : 5:57 a.m.
Animesh Anand spoke with us on the radio show this weekend and provided useful advice on choosing a rehabilitation facility. Animesh is the director of therapy operations at the Care and Rehabilitation Center at Glacier Hills.
Glacier Hills is a not-for-profit senior community providing a full continuum of care from independent living to skilled nursing and dementia care. The organization was founded in 1973, and their campus is located on Earhart Road in northeast Ann Arbor.
Animesh encourages a straight-forward approach to choosing a rehab center. Go visit and look at the basics — are you treated with respect when you walk in the building? Are they welcoming? Do you feel like you're a guest? Are you treated well by all those on the staff? Does the facility offer all the therapy services you need, and are those services offered seven days a week?
At the Glacier Hills Care and Rehab Center, your therapy objectives are established within the first 48 hours, once you have met with your therapists and registered nurse. Animesh talked about the rehab process and that, while it should always be fun and enjoyable, it is not necessarily easy — there is effort required to reach your goals.
Glacier Hills is presently constructing a large new rehabilitation center scheduled to open this fall. The new facility features a rehab gymnasium, a pool for hydro-therapy, and a transition suite.
Animesh says, "The suite will have a kitchen, bedroom, and bathroom, with the look and feel of a studio apartment." The suite will allow patients to practice their daily activities before they return to their home.
To hear our 13-minute conversation, click the audio link:
To get in touch with Animesh or the Glacier Hills Care and Rehab Center, call 734-769-0177 or visit the website glacierhills.org.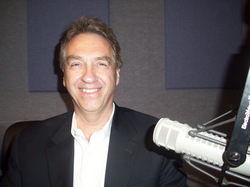 Photos by Alan Caldwell
We then had the privilege of speaking with Ron Hagen about long term care insurance. Ron is a general agent for Genworth Financial and has 30 long term care specialists working with him. Genworth Financial is the largest provider of long term care insurance and is partnered with AARP.
Ron and his specialists help educate families about financial planning and on the options to pay for long term care. Long term care insurance covers a number of situations, from simple chores services to skilled Alzheimer's care. The care can be provided in a private residence or in a senior facility, and the choice of care is determined by the insured person and his or her family.
Ron encourages people to purchase long term care insurance in their 40s or 50s, since the earlier you begin a policy, the lower the premiums. Importantly, too many people wait until they need care to ask about this insurance. Ron says you're probably not insurable if you have a serious illness. As he put it, "It's similar to property insurance, and you can't get homeowner's insurance when your back porch is on fire."
We also talked about what is covered by government resources. The new national health care plan does not provide long term care coverage. Medicare pays for post discharge care and rehab care, generally for up to 100 days. Medicaid may be an option for long term chronic care, but only for those with very limited assets.
We switched gears briefly to ask about Ron's work with the Alzheimer's Association where he is the association's ambassador for Michigan's senator, Carl Levin. There was good news recently with the release of the National Alzheimer's Plan, which establishes this disease as a national priority.
To listen to this 14-minute discussion, click the audio link:
To get in touch with Ron or Genworth Financial, you may call 810-354-5824 or visit the website genworth.com.