Posted on
Mon, Jul 30, 2012 : 5:57 a.m.
Partnering with local hospital provides advantages for patients at rehab facility
By Alan Caldwell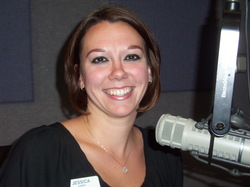 Working closely with St. Joseph Mercy health system, the Heartland Health Care Center provides a comprehensive program for congestive heart failure. We learned about this initiative on the radio show this past weekend from Jessica Lewis, the admissions and marketing director at the Heartland Center.
This facility is located at 4701 E. Huron River Drive, next to the St. Joe's Hospital campus and across from Washtenaw Community College. Jessica spoke of their focus on rehabilitation services, including physical, occupational and speech therapy. Most of their patients are coming out of the hospital after a surgery or after a stroke, or are recovering for some debilitating illness. The goal is to get folks back home, to be safe and comfortable again in their own residence.
Besides providing expert skilled medical care, their congestive heart failure program provides valuable education to the patients and their families. They learn about weight management and fluid regulation. Patients that follow the recommendations and guidelines can significantly reduce the likelihood of a readmission to the hospital.
The center educates patients on a wide variety of subjects, including medication management. As Jessica pointed out, many patients do not know why they are prescribed each of their medications. Learning the benefits of each medication generally improves the patient's compliance with their medication schedule.
Jessica is having a busy summer and has several more community events scheduled before the end of the season. On Aug. 3, she will participate in the Health Expo at the Van Buren Township Senior Center. On Aug. 8, she hosts an Ice Cream Social at the Pittsfield Senior Center. Jessica is a heart-healthy cook and will provide a heart healthy breakfast at the Chelsea Senior Center on Aug. 22.
To hear our 13-minute conversation, click the audio link:
To get in touch with Jessica or the Heartland Health Care Center, call 734-975-2600 or visit their website hcr-manorcare.com.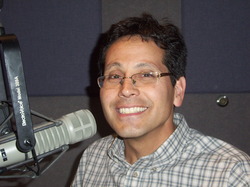 Photos by Sheila Doeden
We next talked about senior living options with Ken Yamamoto, the owner and director of operations for Presidential Care Givers. Ken's company provides assisted living services in a residential home environment. As Ken says, "The objective is a cozy home environment similar to what you've been used to in your own home."
Ken told a wonderful story about his 90-year-old grandfather. His grandfather called shortly after Ken's grandmother had passed away. While his grandparents had always been quite reclusive, his grandfather asked Ken to come visit. Ken was alarmed to find a house that was completely falling apart, without basic services, and this in the middle of January. Ken instantly became his grandfather's caregiver, providing housing and many required services. This experience was the inspiration for Ken's current career.
Ken has a residential assisted living home near the Eastern Michigan University campus, fully licensed through the state adult foster care rules. While many area senior homes are not licensed, Ken's operation follows all of the required processes. For example, there are very specific procedures for the medications for the residents, charting the times and amounts, and initialing who has given what. Presidential Care Givers also offers Semi-Dependent Care, a program modeled after the care Ken provided for his grandfather. His grandfather did not want to live with others; he wanted to remain as independent as possible. Ken provides individual housing in a private home or condo, fully modified for an elderly resident. Then his caregivers provide assistance at the individual level required, generally visits of a few hours several days a week.
Ken is a strong advocate for veterans, helping promote the Veterans Aid & Attendance benefit. This program can provide significant financial assistance for those needing help with their activities of daily living.
To listen to this 13-minute talk, click the audio link:
To get in touch with Ken Yamamoto or Presidential Care Givers, call 734-219-9010 or access the website presidentialcaregivers.com.
Alan Caldwell and Sheila Doeden co-host Everything Elderly every Saturday morning at 8:30 on 1290 WLBY. In their day jobs, Alan and Sheila co-own and co-manage Senior Helpers, providing in-home care services, primarily to the elderly. Both can be contacted at homecareexcellence@seniorhelpers.com, or at 734-927-3111.