Posted on
Mon, Apr 9, 2012 : 5:57 a.m.
Rehabilitation center helping clients get back home safe and well
By Alan Caldwell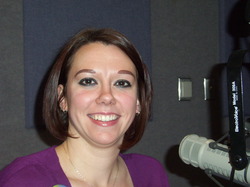 We welcomed Heartland Health Care Center to the radio show this past weekend. We were privileged to host two of their directors — Jessica Lewis is the admissions and marketing director and Cyndi Waitz is the rehabilitation director. Their facility is located at 4701 E. Huron River Drive, next to the St. Joe's Hospital campus and across from Washtenaw Community College.
Jessica spoke of their focus on post-acute medical and rehabilitation services. Most of their patients are coming out of the hospital after a surgery, after a stroke, or are recovering from a debilitating illness. Heartland provides physical, occupational and speech therapy, as well as nursing care. The goal is to get folks back home, living safe and happy in their own residence.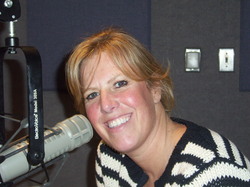 Cyndi emphasized how they want to help people reach their maximum potential, to not just return home with a quality of life similar to before they went to the hospital, but to return home with an improved quality of life. The center has 37 full-time therapists providing care seven days a week from 7 a.m. to 8 p.m., to fit the care requirements and schedule of their residents.
Cyndi spoke about their GPS tool (Goal Plan for Success) that allows patients to visually track their progress. Patients can check off what they have accomplished on their way to being discharged safely to their own home.
When comparing rehab facilities, Jessica spoke of the importance of outcomes — how do patients respond to the care and rehab. Heartland is proud that of the 1,181 patients they took care of last year, 99.5 percent could manage their own care at discharge ("complete or quite a lot").
To hear our 13-minute conversation, click the audio link:
To get in touch with Jessica, Cyndi or the Heartland center, call 734-975-2600 or see their website hcr-manorcare.com.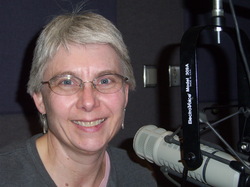 Photos by Sheila Doeden
We then welcomed our good friend Carol Kamm, who helps people with their stuff! Carol is the owner of Encore Online Resale which specializes in selling other people's things on consignment through the online eBay service.
Carol works with lots of seniors and their families, especially those that are down-sizing. The grown children usually don't want all their parents' excess belongings. Yet many things probably have significant value and that's where Encore Online Resale can help.
Carol's process is simple but very complete. First, they research the potential value of the belongings you would like to sell. To make it worth everyone's time, Carol's company would like goods to have an expected value of at least $75.
The items are then photographed and listed for auction on eBay, usually for one week. Once sold, the company handles the receipt of payment and the shipping of the item. Then you get a check from Encore, generally for 60 percent of the purchase price.
Carol shared that many families with too much stuff immediately call the junk hauler. They may be throwing away a lot of money. Carol never minds being called and asked to get involved; the research is free.
She also hates for valuable things to be thrown away when someone out there might be looking for just that item. It's wonderful for seniors to see their stuff going to others who really want it and will treasure it as they once did.
Carol also works closely with thrift shops like Kiwanis helping them achieve higher value for their donated goods, and also in turn providing these shops with items that aren't appropriate for eBay but that are perfect for a thrift sale.
To listen to this 13-minute discussion, click the audio link:
To get in touch with Carol or Encore Online Resale, call 734-761-6187, or visit their website encoreonlineresale.com.
Alan Caldwell and Sheila Doeden co-host Everything Elderly every Saturday morning at 8:30 on 1290 WLBY. In their day jobs, Alan and Sheila co-own and co-manage Senior Helpers, providing in-home care services, primarily to the elderly. Both can be contacted at homecareexcellence@seniorhelpers.com, or at 734-927-3111.