EVERYTHING ELDERLY
HEALTH:

Senior Living Week is a great opportunity to get informed

Posted on Mon, Apr 30, 2012 : 5:57 a.m.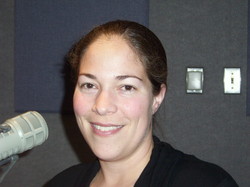 The big senior event of the year is almost here. Lindsay McCarthy joined the program this past weekend and gave us all the details on Senior Living Week. Lindsay is the marketing and events coordinator for Community Health Services with the University of Michigan Health System. She is busy these days helping the Housing Bureau for Seniors organize Senior Living Week.
This annual event kicks off with the Expo on Friday, May 11, from 8:30 a.m. to 3:15 p.m., at the Morris Lawrence Building at Washtenaw Community College. This is open to the public and is totally free. There will be more than 70 vendors representing all aspects of senior lifestyles and care for those more elderly.
A major part of the week are the workshops that begin at the expo itself. There are four workshops that Friday, about elder law and estate planning, staying independent at home, optimal rehabilitation and geriatric assessments. The workshops continue throughout the week at various senior communities in Washtenaw County. These are all conducted by experts in their fields and are a perfect time to get answers to your specific questions.
Another key aspect of the week are the open houses at local senior facilities. There are 13 open houses scheduled from Saturday, May 12 through Sunday, May 20, representing a variety of independent and assisted living communities. These are opportunities to tour the facilities and get a sense of the atmosphere of each community, as each one has its own character.
To hear our 13-minute conversation, click the audio link:
To get in touch with Lindsay, or to learn more about Senior Living Week, please call 734-998-9339 or visit the website med.umich.edu/seniors/.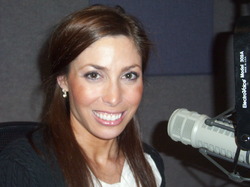 Photos by Sheila Doeden
It's always fun to talk about food on the show and we had the opportunity as Arlene Hsu joined the program. Arlene is the executive director of Brookdale Place Ann Arbor. This community is located on Ann Arbor - Saline Road, across from the Main Street Busch's. They offer assisted living as well as memory care in their Clare Bridge program.
Arlene spoke about the importance of good nutritious food for seniors. Those more elderly still want to have great tasting food and it's also important to provide the nutrition they need.
Arlene's facility benefits from Brookdale's Culinary Institute of Arts in Chicago, where the chefs are trained in the specifics of cooking for their senior communities. The menus are developed by a geriatric physician, dietician, and a chef. This team ensures the Brookdale menus provide great taste with excellent nutrition.
There is also considerable local input into the dining at Brookdale. The residents provide weekly feedback, and there is a food committee that meets monthly. We particularly enjoyed hearing that residents may provide the chefs with favorite family recipes so they can enjoy a taste of their family past.
Arlene also shared how for those in Clare Bridge, with moderate to severe Alzheimer's/dementia, there are special considerations when it comes to meal times. The objective is reduced stimulation and a calmer atmosphere with simpler dining — as Arlene says, "setting up their residents for success".
Brookdale residents particularly love the comfort food — beef and mashed potatoes, and fresh vegetables. They buy local whenever they can, and fortunately there are an abundance of fresh choices right here in Michigan.
To listen to this 13-minute discussion, click the audio link:
To get in touch with Arlene or Brookdale Place, please call 734-327-1350 or visit the website brookdaleliving.com.