Daily Dose of Health News with poll:

Substance that mimics marijuana could be banned in Michigan, other states

Posted on Mon, Jul 12, 2010 : 9:48 a.m.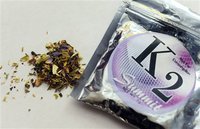 Kelley McCall | The Associated Press
Here's a look at some of the top health news being talked about around the U.S. and the world today:
• It's just a collection of herbs that can be sold legally at shops around the country. But those herbs, mixed together and sold under brands like K2, are treated with a substance being called a synthetic form of marijuana that can mimic the drug's effects. Available in Ann Arbor, that substance could be banned in Michigan as the state joined a handful of other legislatures to consider the issue, according to the New York Times.
• A government strategy to reduce the spread of the AIDS epidemic was announced recently, with goals to reduce the number of new infections in the U.S. by 25 percent in the next five years, the New York Times is reporting.
• As a push back against national obesity rates continues, first lady Michelle Obama pointed to the challenges in small town America where health clubs and nutritious eating might not be part of the local landscape or culture. Check out Manchester, Ky., an article in the Washington Post suggests. With an obesity rate greater than 50 percent, this might be what Obama was talking about.