Posted on
Sun, Aug 7, 2011 : 6 a.m.
The pluses and minuses of meditating in a bathtub
By Susan Scott Morales, MSW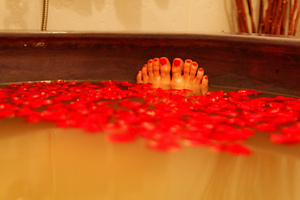 Photo by Flickr user Dennis Wong

On one of those recent super-hot afternoons, I cooled off in my bathtub. It was relaxing and the thought came to me, "Why not meditate?"
I imagined putting candles around the tub, maybe filling it with bubbles or flower petals. After all, bathing is relaxing, and sometimes being in the water connects me to my right brain. Many of my poems have started while I was bathing. (Did you know Thomas Edison claimed he got his best ideas in the bath?)
There are no distractions and once the water stops running, the quiet takes over. These are the pluses. However, they stop there.
Meditating in the tub is simply uncomfortable. I tried different sitting postures. Lying down wasn't an option because I thought I'd fall asleep.
I tried different techniques. The outcome was always the same: this isn't comfortable. I suppose I could bring in waterproof pillows so the surface wasn't so hard, but that seems a little overboard.
So why am I even mentioning this experiment? It supports one of my fundamentals of a meditation practice: be comfortable. Then we can be both relaxed and alert.
We don't have to maintain a yoga pose to meditate. It's fine to sit in a soft chair with pillows behind your back, around your neck, under your hips, thighs and feet. When we're comfortable, we can relax. There should be ease in the body so that the mind can be at ease.
The breath should also be easy. There are great breathing exercises to prepare for meditation. Check out pranayama online. But once you focus inward, I suggest you breathe naturally, without any tension. Allow the body to move the breath in and out automatically.
In one of my blogs I claimed I could meditate any time, any place. Well, there's now a disclaimer… not in the bathtub.
Susan Scott Morales is a meditation teacher, psychotherapist, published poet, novelist, and community contributor to AnnArbor.com and blogger on redroom.com. Tweet her @susanscottmoral, reach her at susanmmorales@yahoo.com or visit her website: susanscottmorales.com or fan page: https://www.facebook.com/susanscottmorales.writer.