Posted on
Mon, Nov 12, 2012 : 5:57 a.m.
University of Michigan health care available in your own home
By Alan Caldwell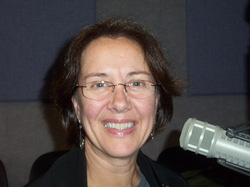 Many locals may not be aware that the University of Michigan Health System offers in home care. Toni Henkemeyer, the director of program development for the University of Michigan Home Care shared that message on the radio show this past weekend.
The UM Home Care program offers a broad range of services including home infusion (medications through IV), visiting nurses and therapists, private duty health aides, and medical equipment. Services are available in Washtenaw and Livingston counties, as well as western Wayne and western Oakland counties.
With a physician's order, the UM Visiting Nurses provide home care for those that need skilled services, such as wound care and symptom management. This care is covered by Medicare and most insurance plans.
The UM Visiting Care program provides nursing and home health aide services, generally paid for by the family. This may be a registered nurse assisting a patient on a ventilator, or it could be an aide helping a patient within bathing and dressing, or simply some welcome companionship.
With the House Call program, a nurse practitioner visits the patient in their home, and completes exams and may write prescriptions. The nurse practitioner works with a UM physician and also with the patient's primary care provider. Medicare and most insurance plans provide for this in-home care.
Toni also talked about flu shots. Pretty much everyone is encouraged to take this precaution, although the high dose shot is not recommended by the Center for Disease Control. Toni said the elderly should definitely be getting flu shots to protect themselves and also to better ensure they don't spread the flu to their grandchildren.
To hear this 13-minute discussion, click the audio link:
To get in touch with Toni or the University of Michigan Home Care, call 734-477-7229 or access the website med.umich.edu/homecare.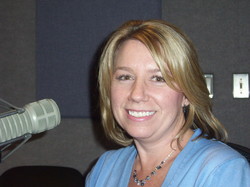 Photos by Sheila Doeden
Kim Fix joined the discussion next. Kim is a marketing representative with Hospice of Michigan, the largest nonprofit provider of hospice care in Michigan. Kim describes their hospice service as providing comprehensive compassionate care for those with a terminal illness.
We heard the common misconceptions and myths regarding hospice care. As Kim said, "People think they are giving up, but it's really changing tactics. It's making sure symptoms are managed to have quality of life." Hospice is also not a place; it's a service provided where you reside, whether that is a private home, a senior facility or an adult foster care home.
Kim also emphasized how there is not one generic hospice service. In fact, in southeast Michigan alone, there are 50 different hospice agencies. They are not all the same, and you should research your options and make sure there is a good fit with the agency you choose.
Their hospice care team is interdisciplinary and includes physicians, registered nurses, and hospice aides. There is spiritual care available for many different religions, as well as grief support. Kim spoke about their more than 900 trained volunteers that help not only their patients but also the family caregivers.
Hospice of Michigan offers a Caregiver Kit with many useful tools, including a stress scale, techniques to reduce stress, a pain scale to better describe any pain, community resources, and tips for providing effective caregiving. There is also an impactful educational video ("Except for Six") that clearly shows what hospice is all about. Kim mentioned their Coping with the Holidays grief support program. This 90-minute program is presented with live sessions and also online. This is free and open to anyone, with more information available on their website.
To listen to this 13-minute talk, click the audio link:
To get in touch with Kim or Hospice of Michigan, call 888-247-5701 or visit their website hom.org.
Alan Caldwell and Sheila Doeden co-host Everything Elderly every Saturday morning at 8:30 on 1290 WLBY. In their day jobs, Alan and Sheila co-own and co-manage Senior Helpers, providing in-home care services, primarily to the elderly. Both can be contacted at homecareexcellence@seniorhelpers.com, or at 734-927-3111.