Posted on
Sat, Dec 17, 2011 : 9 a.m.
Many tools are available for the Do-It-Yourself woman
By Keith A. Paul
The female workforce is continuing to grow. According to OSHA, there are new products and tools designed to fit the needs of this new and emerging demographic.
Last week's column was for tools for the "Do-it-Yourselfer" guy. I've received many requests since then for an article for the "do-it-yourselfer" ladies. I did a little research and found many products designed exclusively for women.
While I would still recommend the tools in last week's column for all women, consider this column as an "in addition to." Would it be safe to say this is for the "Jill of all Trades"?
— Keith A. Paul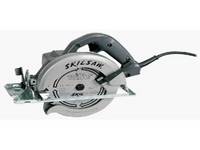 Photo by: Amazon.com
Skil Skil HD5510 6.5 Amp 5-1/2-inch saw. This lightweight circular saw is a high torque and precision cutting tool designed for smaller project such as cutting sheets of plywood, 2x4s or trim boards. Cost: Approximately $200.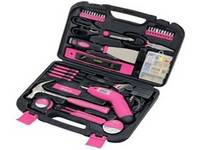 Photo by: Amazon.com
Apollo Precision Tools DT0773N1 135-Piece Household Pink Tool Kit. When I showed this multi-tool kit to my sister in law, she said, "I need new tools, but they do not have to be pink." She continued, "But that cordless drill would come in handy for the loose electrical cover, and the measuring tape is kind of cute, and I like the variety of tools." She ended by asking, "Where can I get one?" Dispite the "cuteness" of the tools, these are high-quality and solid pieces of equipment. Amazon sells the kits for about $40.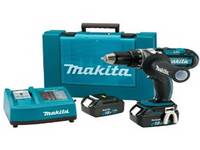 Photo by: Amazon.com
Makita LXFD01CW 18-Volt Compact Lithium-Ion Cordless 1/2-Inch Driver-Drill Kit. This light weight commercial Makita drill has a four-pole motor which delivers 480 inch-pounds of max torque and 290 inch-pounds PTI torque, with two speeds to cover a wide range of drilling and driving applications. At 7-9/16 inches long and 3.3 pounds, it has a compact design to reduced operator fatigue and a new rubberized soft grip for increased comfort. The built-in LED light illuminates the job area for applications in low-light conditions and close quarters. It runs about $150.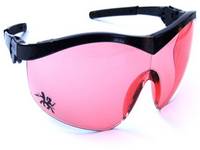 Photo by: 1Sears.com

Moxie Trades Pink Women's Safety Glasses. Female or male, when a technician is hired with our company, the first item addressed on the first day of work is safety. The most important tool is eye protection. At $8-$12, it's a must have.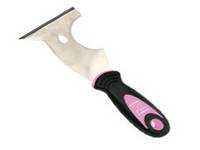 Photo by: 2tomboytools.com
The versatile high quality 5-in-1 Tool is made by TomBoy Tools. Tomboy Tools is an educational tool business which sells on high quality, lightweight tools. Unlike a Tupperware party, these products can construct a kitchen rather than bake what's in it. This 5-in-1 is used to clean the paint roller, remove nails, open paint can, scrape off old paint or smooth surfaces and spread spackle or putty into cracks or gaps. I cannot live without my 5-in-1, and I highly recommend one in every "Jack" or "Jill" of all trades toolbox.
Treat yourself to an early Christmas present this year, or give this article to your spouse for hints. Either way you will be getting quality, useful tools to complete your projects.
Paul is a State of Michigan Licensed Builder. Paul serves as President and founding member of Nationally franchised HandyPro Handyman Service, servicing Washtenaw, Wayne and Oakland Counties. www.handypro.com. Listen to Paul every Saturday at 11 a.m. on "It's Your Business, Make It Happen" WAAM Talk 1600AM. Email questions or comments to kpaul@handypro.com.