Posted on
Sat, Nov 5, 2011 : 4:40 p.m.
How well did your 2011 garden grow?
By Jim and Janice Leach
James Leach | Contributor
Rakes, yard bags, compost piles, empty beds... There's no denying: the end of the garden season is upon us.
One gardening ritual that we make a point of observing is marking and celebrating our triumphs. We are big on lists, so we have one or more noting our gardening successes. We take pictures too, although that practice is a little less regular than we'd like it to be. We talk about our garden a lot, with each other and any friends or neighbors that express interest.
And, obviously, we write it down.
Each gardening season has its triumphs, and it's good to celebrate and remember them for the cold months ahead. Good gardening memories are also fodder for next year's garden plans, which start shaping up very soon.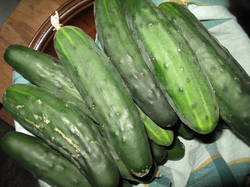 Janice Leach | Contributor
In the 20 Minute Garden, 2010 was the year of tomatoes and eggplant. We set up a poll on annarbor.com last year, and 53 percent of those who voted confirmed that tomatoes were their best crops too, followed by peppers, herbs, and every gardener's nemesis, the weeds.
Sadly, this year our tomatoes were not the star of the garden. To institute a more regular plan of crop rotation, we moved the tomatoes to a bed where we had less easy access, which meant less efficient staking and more fruit loss. Or, if we're being honest, maybe we just neglected more than we should have!
2011 garden was dominated by acorn squash. We planted two hills of seedlings and harvested more than 20 acorn squash from vines that grew 12 feet long and hid squash under broccoli and beans. Our cucumber plants were utterly fantastic —for the first time.
The cole crops also did well in our yard. The kale was magnificent, and the broccoli just keeps going. Our peppers were very happy too. I believe that I can stand by my early summer proclamation that it was indeed our best garden ever, which is not to claim perfection. It's more the standard that the next summer's garden will have to aim for.
So, again, before the last leaf falls, we invite you to make a moment to take stock of your gardening successes as well as your dreams and plans for improvements next year. Stroll through your garden — physically or mentally — and tally up what you've got to be happy about.
What were you most pleased with in your garden this year? Which crop or plant exceeded your expectations? What can you celebrate? Use the poll below to vote for your most successful plants; you can vote for more than one. Or leave more details about your gardening successes in the comments.
Janice and Jim Leach tend a backyard plot in downtown Ann Arbor, where they try to grow as many vegetables and other plants as possible. For the last four years, they've published gardening tips, photos and stories at their 20 Minute Garden website.