Posted on
Fri, Feb 18, 2011 : 7 a.m.
How to repair a textured ceiling crack
By Keith A. Paul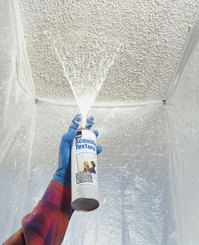 Photo by familyhandyman.com
My drywall textured ceiling has water damage from a leak caused by an ice dam. I'd like to repair it myself. However, my concern is that I may have to remove all the stucco on the ceiling to match the existing stucco, and I don't want have to do that. It's approximately a 12-inch crack.
-Byron P., Ann Arbor
Hi Byron. I have some good news. In most cases, and with a little patience, this is a do-it-yourself project. Although it is nearly impossible to have an exact texture match, you can closely match the texture by using one of the methods below.
The first step is to determine the extent of the damage. If it's just discolored, you may be able to spray primer and paint over it.
However, because you stated there was a "crack", we'll take additional steps. Press along the crack with your fingers to verify any soft areas or if there is any movement. If there is loose drywall, then a section of ceiling may have to be replaced. If so, remove and replace only the soft section.
Next, remove the damaged texture area by applying hot water with a spray bottle. Soaking the texture will allow it to deteriorate. You'll then be able to scrape and remove it with a putty knife. Visit EPA's website for questions about lead if your home is built before 1978.
Ensure a very clean area to apply drywall tape and drywall mud. Feather to a smooth finish, (a minimum of four to six inches around the perimeter of the repair). Next apply primer. For more information on how to complete a drywall repair read my previous article on drywall repair.
Once the area is prepared for the texture application, determine what type of stucco finish you have and what pattern the installer created. Use a scrap piece of drywall to practice the texture finish before applying to your ceiling. Tarp off the area as seen in the picture. By following one of the methods below you can create different patterns that hopefully will match what you have.

1. Minor cracks and small damaged areas. Depending on the ceiling texture, you may be able to use a simple process with premixed drywall mud and a large paint brush three inches or larger. Dilute the premixed mud into a separate container and add water with the consistency of thick maple syrup. Otherwise the mud can dry too quickly and be difficult to spread an even texture and even crack when it dries.
Then apply lightly to the ceiling by using a touch and release motion with your brush allowing the drywall mud to pull away and create a pattern as close as possible to the ceiling. Allow to dry, then prime and paint.
Or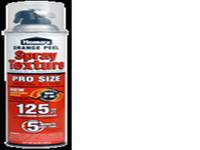 Photo by: Hormaxproducts.com
2. Slightly larger damaged areas. A spray texture paint, such as Hormax Texture Spray, can be used. Read the directions carefully, as it can be a little tricky. It sprays fast, so the entire can will empty itself within a matter of seconds if you are not careful! These products can be purchased and applied in several different patterns ranging from fine texture to heavy splatter. This would be used on a "popcorn" type finish. Again, practice on a disposable flat surface first to ensure you can match the pattern as close as possible before applying to the ceiling. It typically dries within 30 minutes and ready for priming and painting. Keep in mind that if you have a popcorn ceiling, commonly known as acoustical ceiling, many of these contained asbestos in the ceiling treatments prior to 1977. Consult with a professional if unsure.
Paul is a State of Michigan Licensed Builder. Paul serves as President and founding member of Nationally franchised HandyPro Handyman Service, servicing Washtenaw, Wayne and Oakland Counties. www.handypro.com. Listen to Paul every Saturday at 11 a.m. on "It's Your Home, Let's Talk About It" WAAM Talk 1600AM. Email questions or comments to kpaul@handypro.com.