Posted on
Fri, Dec 2, 2011 : 12:06 a.m.
How to choose and safely hang exterior Christmas lights
By Keith A. Paul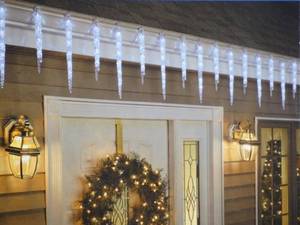 Photo from Amazon.com
Hi Keith, My husband and I are going to hang Christmas lights outside this year. We live in a subdivision with a two story colonial home. We are a little confused regarding the vast variety of lights. Any suggestions?
—Kay B., Salem Township
Hi Kay,

Having a beautifully lit home can be a wonderful visual experience bringing Christmas cheer to your home and it doesn't have to break the bank, (or your back), to do it. And the good news is you don't have to be a professional to be the envy of your neighborhood.
Here are a few tips that can help you get started.
Start with a plan - What are your home's best features? Just like when you want to present your best, you want to highlight the finest features of your home, from your porches to your peaks. Consider the type of trees and bushes you have, where they are placed and what their height is. Emphasizing the stairs and railings of your home along with the roof line is a great way to feature Christmas lights. Measure the length and amount of the extension cords you will need and how you will plug them in, since you do not want to overload a circuit.
GFCI - This is a must. Be sure you have an exterior Ground Fault Circuit Interrupter Plug. This is a safety feature used to automatically turn of the electricity in case of an electrical surge or short circuit.
Types of Lights and extension cords - Make sure to use exterior lights rated for outdoor use only. The old two-prong lights are unsafe for outdoor use. Use 12-gage or 14-gage exterior extension cords with a ground (three prongs). Also, be sure to test the bulbs first, since they are easier to replace while not on a ladder. (This is from personal experience.) There are easy to use bulb testers on the market that can help you locate burnt out bulbs without removing each one separately.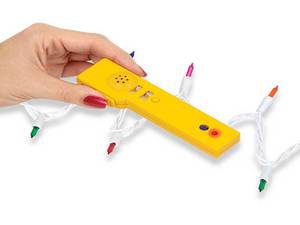 Photo from qcidirect.com
There are many types of lights on the market: blinking, small, large, small collard, icicles nets etc. Using continuity in lights is said to be more appealing and favorable. Most favor the consistent flow. Emitting diode lights are the most popular due to the affordability and the energy savings, sometimes up to 80 percent compared to the old traditional style bulbs.
How to place them -
Bushes. Start here because it's the easiest to install. In my opinion bushes are easier to wrap with net lights. They look like a webbed, mesh-like fishing net thrown on top of the bushes. Easy to clean up as well.

Trees. If you have trees with fallen leaves such as maple, oak, or apple, you can wrap the base of the tree and wrap some of the branches to give an attractive look. For evergreens, wrap around the outer end of the branches from the top down.
Eves and Windows. Creativity can be used to engage others. There are many types of fasteners used to help make this step an easier process. Just click and connect your icicle lights or string lights instantly. When using icicle lights, be sure to stagger no more than six inches apart, otherwise it will appear garish.
Roof line and Porch. Use the connectors that attach to your gutters to outline the roof line. Feature your porch and wind or wrap the lights around the columns.
This is a fun project, but I can't emphasize enough about ladder safety, ladder safety, ladder safety. Use a sturdy "A" frame ladder. Be sure it is on a solid, even foundation. Now that it is cold out, make sure there is no ice on the surface. Having a second person holding and assisting you is a great idea. Please refer to my April 1, 2011 column on ladder safety for more information.
Lastly, use an automatic timer or use an outlet that has a switch to alleviate you having to unplug during the cold blistery nights. Stand back and enjoy the Christmas holidays with your work of art.
Paul is a State of Michigan Licensed Builder. Paul serves as President and founding member of Nationally franchised HandyPro Handyman Service, servicing Washtenaw, Wayne and Oakland Counties. www.handypro.com. Listen to Paul every Saturday at 11 a.m. on "It's Your Business, Make It Happen" WAAM Talk 1600AM. Email questions or comments to kpaul@handypro.com.