Posted on
Tue, Dec 27, 2011 : 6 a.m.
Lazy Jim's tips for drying hot peppers
By Jim and Janice Leach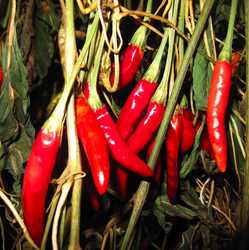 Janice Leach | Contributor
As usual, we got a little carried away with planting hot peppers last summer. We like hot peppers and use them liberally in cooking. We also like to grow them because they are attractive, well-behaved plants that stay where they are planted, are not particularly prone to insect problems, and generally are pretty prolific in Michigan summers even. I'd be tempted to grow pepper plants even if we didn't like them!
We have had success with saving and preserving peppers lots of different ways, including pickling, drying and freezing. To dry hot peppers like chilis, we have previously pulled all the peppers off of a plant and then used a needle and thread to string them up to dry. Although this creates a festive chili hanging for kitchen decoration, it's also a lot of work.
As the end of the season came around, Jim suggested that we try something new — drying the Thai peppers by pulling up the whole plant and hanging it in the basement. We weren't sure how this process would result in suitably dried peppers, but it did work and amazingly well.
This whole plant method will work best with small peppers of the drying varieties. I cannot imagine that it would work with the fleshier peppers. Again, I've had no problem with freezing peppers — whole or chopped — that I intend to use later in sauces and chili.
Here's the simple steps for Lazy Jim's Hot Pepper Drying Method.
1. When the weather has been dry with no rain for a couple of days, pull up the pepper plant, root and all.

2. Gently knock the stem to free the dirt as much as possible from around roots.

3. Remove any damaged, mushy or questionable peppers or branches at this point.

4. Hang the plant upside down, from the root, in a well-ventilated area. We put ours in the basement.

5. When the peppers are completely dry, snap them off. Store them whole in clean mason jars or grind them up in the blender or with a mortar and pestle to use as pepper flakes.
Thai pepper flakes will be the choice method of storage at our house. Red pepper flakes are handy for spicing up a meal or adding a bit of local heat to individual servings. Properly dried, the peppers will keep almost indefinitely and provide heat for many meals to come.
Janice and Jim Leach tend a backyard plot in downtown Ann Arbor, where they try to grow as many vegetables and other plants as possible. For the last four years, they've published gardening tips, photos and stories at their 20 minute Garden website.