Posted on
Tue, Apr 24, 2012 : 11:19 p.m.
Native plant sightings on the U-M campus
By Rick Meader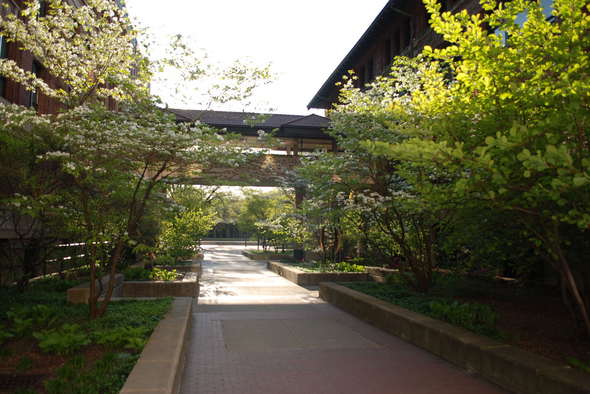 Rick Meader | Contributor
Sometimes, when you're all bound-up from studying, or teaching, or from eating too many burritos, it's good to get out, get some fresh air and enjoy nature. On a built-up campus like Michigan's however, sometimes you need some help to find native species (beyond the stately trees in the Diag, which are an impressive mix of elms, oaks and maples). Here is some help for you in the form of a mini-tour.
The first stop is the area between Randall Laboratory and West Hall. This, to me, is a pretty cool area, and a nice use of native shrubs/small trees. This semi-cavernous area is absolutely man-made, but whoever chose the plantings made good use of the conditions by planting redbuds (Cercis canadensis), flowering dogwoods (Cornus florida), Serviceberry (Amelanchier - I'm not sure of the species) and American witch-hazel (Hamamelis virginiana).
All are either understory or forest-edge trees that would likely encounter lighting conditions in the wild that are similar to those encountered in this cozy little pass-through between what was East University Drive and Central Campus. I wish that they had also chosen to put a lot of natives in the planters underneath these trees, but if you keep your head up, you can really enjoy a nice mini-arboretum of natives.
Just south of this, between West Hall and the pedestrian walkway, is a very nice planting of redbuds. The flowers are finally falling off, but I always enjoy their bright show when they're in full bloom. It's definitely worth walking by if you have a chance.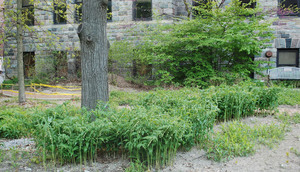 Rick Meader | Contributor
North of that, at the northeast corner of the central campus main quad, is Dana Hall, home of the School of Natural Resources and Environment. In front, on the east side, is a woodland garden full of plants native to Michigan that has been there for years.
It is currently a construction site, but there is still a healthy stand of Solomon's Seal (Polygonatum biflorum) at the edge of the destruction, and many other native plants back it up.
There was a sunny garden on the north side of the entry sidewalk with a lot of natives, but a University construction project wiped that out. A Landscape Architecture program construction project, which includes a rain garden and will also include many new native plantings, is still underway, so come back in a year or so to see the fruits of the students' labors.
On the west side of Dana are some very nice Musclewood trees (Carpinus caroliniana) that do well in the fairly deep shade there, with spicebush (Lindera benzoin) beneath them. Musclewood is a very interesting understory tree that doesn't normally get much taller than 25-30 feet and is usually found in moist woods.
Its most interesting feature, and the source of its common name, is the undulating wood in its trunk and larger branches. They look like the muscles of a lean, fit athlete. I'd say they feel that way, too, but I really don't go around feeling the muscles of lean, fit athletes, and feeling my own musculature doesn't really give the same effect.
After feeling the tree, head over to the southeast corner of the Chemistry building, where, in late fall, the large witch-hazel (Hamamelis virginiana) tree there produces a load of bright, yellow flowers that provide a nice contrast to the white snowflakes that may be swirling about them during an early snow fall.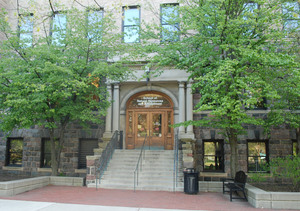 Rick Meader | Contributor
I hope that you have a chance to take in these areas throughout the year to enjoy their looks in the different seasons. I'll be adding more mini-travelogues on the Michigan campus and beyond as I discover them.
If you know of any, please let me know so I can share them with others who may appreciate a little native plant-viewing on the Michigan campus, or even Eastern Michigan's or WCC's. I'm always interested in learning of uses of native plants in planted landscapes, and, of course, wild ones.
This week, blooming in our yard are violets, trilliums, woodland phlox, Virginia bluebells, Early meadow rue, spring beauties, rue anemone, wild strawberry, wild geranium, false Solomon's seal, foamflower and wild ginger. Get out into your own yard to see what may be native and blooming, and definitely get out and enjoy nature, everyone!
Rick is a local landscape architect with a special interest in all things natural, including creating designs that include a lot of native plants (and the critters they support). You can contact him at yourland1824@gmail.com.