Ann Arbor Native
home & garden:

Native plant saviors for a dry yard

Posted on Thu, Aug 16, 2012 : 11:11 p.m.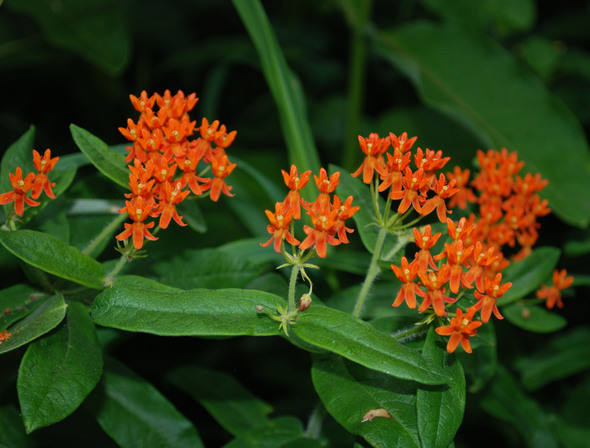 Rick Meader | Contributor
Well, it's been a dry one! Sorry that I've been an absentee writer — I've been out watering my plants all summer, and trying to stay cool. But, since it has been so hot, and since many of you have dry, sunny spots that refuse to support a healthy lawn without dousing it with a fire hydrant, perhaps you're ready to try something new. Something perhaps a little taller than three inches and something with a bit more color.
If you are, this entry will give you some suggestions of plants that you can add to your yard that will add color and insect activity, in the form of butterflies and tiny little bees, while requiring a lot less watering and fertilizers than a standard lawn does.
First, as with any planting endeavor, it's important to know what type of soil you have, and how much sun the thirsty area gets every day. You may also want to think about what kinds of color you want to see, how tall you want/can stand, and whether you want to try to attract butterflies and bees to your yard that you aren't currently getting. (Sorry, if you attract butterflies, you're also going to attract bees, but most are non-stinging varieties that are just interested in finding nectar, not human skin).
With those caveats in mind, let's think about sunny, sandy soils first. Good, short groundcovers are wild strawberry (Fragaria virginica) and common cinquefoil (Potentilla simplex). We covered this in a previous entry on groundcovers. The strawberry has cute white flowers that bloom very early, in April-May and the cinquefoil has small, bright yellow flowers that bloom later, in May-June.
Other early-blooming wildflowers you could add that are also relatively short are Sand Coreopsis (Coreopsis lanceolata), which is about 12 inches tall and has bright, yellow flowers that get about two inches across or so, Lupine (Lupinus perennis), which has showy blue-purple flowers and only gets to one to two feet tall, and Hairy Beardtongue (Penstemon hirsutus) which is about 12-18 inches tall and has tubular-shaped white flowers that attract butterflies and hummingbirds.
Photos by Greg Vaclavek, Native Plant Nursery
Plants that bloom in early to mid-summer but are also fairly short are Whorled Milkweed (Asclepias verticillata) which has very thin leaves and white flowers (and also attracts monarch butterflies), Rough Blazingstar (Liatris aspera), which has flower stalks that may reach three feet in height, with nodes of pink flowers along the stalk that attract butterflies and bees, or perhaps even Round-leafed Ragwort (Senecio obovatus), which blooms in April-June and has bright yellow flowers.
If you would prefer some plants with a bit more height, Wild Indigo (Baptisia tinctoria) gets to a bushy three feet tall, has light green, clover-like foliage and yellow flowers and is the host plant for the Io moth. Black-eyed Susan (Rudbeckia hirta) is also a popular choice for its brightly colored flowers and its popularity as a nectar provider, and Butterfly milkweed (Asclepias tuberosa) gets to about two feet high with bright orange flowers.
For later in the season, Horsemint (Monarda punctata) reaches about two feet tall and has pink flowers, Smooth aster (Aster laevis) and Sky-blue aster (Aster oolentangiensis) provide flowers with shades of blue in the late summer and fall, Heath aster (Aster erigeron) has a plethora of small white flowers and Showy goldenrod (Solidago speciosa) provides a brilliant spire of yellow flowers for your yard.

If you have really sandy, sunny conditions, and you want to keep the neighbor's dog or kids out of your yard with a unique addition to your yard, consider Michigan's only native cactus, the Prickly Pear (Opuntia humifusa), which has yellow blooms in July, and a lasting presence throughout the year.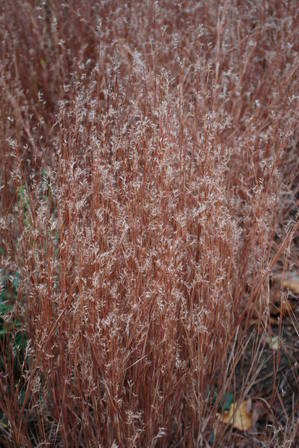 Rick Meader | Contributor
As a backdrop, Purple lovegrass (
Eragrostis spectabilis
) is neat for its purplish, tumbleweed-like seedheads more than its foliage, and Junegrass (
Koeleria macrantha
) is a short (six to 18 inches) grass that has silvery green seedheads in June. A larger, attractive clumping grass for these areas is Little Bluestem (
Schizachyrium scoparium
), one of my favorites, which reaches heights of perhaps three feet and has little seed tufts that are brilliant when backlit.
As you can see, you have a wide variety of options for your dry spots that are much more attractive than burned-out lawn, and won't require an ongoing supply of fertilizer and water to keep them going, once they're established. In this entry, we've covered plants that like dry, sandy soils. In a future entry, we'll talk about plants that can tolerate, and even do well in, dry, heavy soils. In the meantime, keep thinking about keeping your native options open, and get out and enjoy our dry Michigan, everyone!
This week, blooming in our parched yard, are Black-eyed Susan, Grey-headed coneflower, False Sunflower, Brown-eyed Susan, Prairie Dock, Ironweed, Nodding Wild Onion, Virgin's Bower, Tall Coreopsis, Mountain Mint and Big Bluestem. Lots of asters and goldenrods buds are forming for the final floral blast of the year, but I can't call them blooms at this point.