Posted on
Tue, Oct 5, 2010 : 4 p.m.
Using paper bag magic to ripen green tomatoes
By Jim and Janice Leach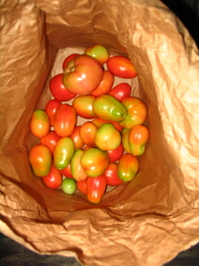 Janice Leach | Contributor
Maybe every home gardener knows this trick, but, if not, everyone should.
I learned the
t
omato bag
trick from Jim long ago, but it still never fails to delight me. I think it's kind of a miracle. This technique is extremely handy for the end of the season, when
frost is threatening
, and green tomatoes still hang on the vines. We enjoy a few fried green tomatoes, but since the red ones are far more popular at our house, we use the tomato bag or box to ripen most of the stragglers.
Start by picking tomatoes that are mostly green, but that show some change in color — like a spot of red or an overall turn toward yellow. Completely green tomatoes will also sometimes work but not always. 
Take these still basically green tomatoes inside and give them a good washing to remove any dirt. As you wash the tomatoes, you can easily pop off the stems too so they don't puncture each other. Sort the tomatoes at this time. Ones with pokes, nibbles or other flaws are not suitable for this experiment; it's better to compost them now! Dry the tomatoes completely and then put them all into a big paper grocery bag.
Fold the top over to close the bag.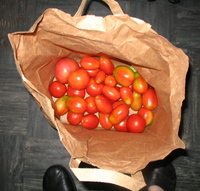 Janice Leach | Contributor
Then wait.
Look inside every day to see what magical ripening action has taken place. Take out the fully ripened tomatoes and add more newly-picked mostly green tomatoes if you have them.
Check the tomatoes' ripening progress every day or so. If a slip-up occurs and one goes mushy, simply sort out the rest into another paper bag, washing away anything suspect, and toss out the damp paper bag (or recycle it).
This year, I've used a wide but shallow cardboard box (approximately 18" x 12" x 6") as the tomato ripening center. I put a paper bag in the bottom as a liner and added a single layer of tomatoes inside and then closed the lid. I've also heard of people wrapping tomatoes individually in newspaper and putting them all together in a box. I find the paper bag or layer of tomatoes in the box approaches simpler and easier to keep track of.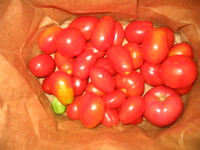 Janice Leach | Contributor
To ripen tomatoes this way, it's important to pick the tomatoes before even a touch of frost gets them. I have tried to ripen frostbitten tomatoes in the past and it never worked at all. They go mushy suddenly, and it's not pretty.
What makes the tomatoes in the bag ripen? The scientific explanation is that the
ethylene gas
from the ripening tomatoes stimulates the other tomatoes to ripen. The tomato bag or box is a cool trick to get the most out of your tomatoes.

Janice and Jim Leach garden a backyard plot in downtown Ann Arbor and tend the website 20 Minute Garden.