Posted on
Thu, Jun 7, 2012 : 10 a.m.
Internet Scams of 2011, part 2: Work-from-home scams
By Kristin Judge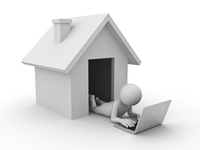 Even when unemployment is not at 25-year highs, people will look for an easy way to make a living. Who wouldn't want to make $2,000 a week just sitting at home?
We have all seen the ads or emails offering a great job opportunity while working from home. At the risk of bursting a bubble or two, if an offer sounds too good to be true, it probably is. More than 17,000 work-from-home scams were reported to the Internet Crime Complaint Center (IC3) in 2011, costing victims more than $20 million. On average, that was two complaints and $2,297 lost per hour.
IC3 is a partnership between the FBI and National White Collar Crime Center that started in 2000, "To serve as a vehicle to receive, develop and refer criminal complaints regarding the rapidly expanding arena of cyber crime." The information they gather also gives them the ability to understand the most common scams and create public service campaigns designed to educate the public.
Understanding the term "unsolicited" email is one of the keys to protecting yourself from online scams. As with the FBI Email Impersonation Scam I wrote about in my last column, we need to be wary of emails that we receive from strangers. If you have not reached out to a reputable company asking for information about a job, they are most likely not going to be sending you an email with a great offer of easy work with high pay.
Let's go over the anatomy of a work-from-home scam so you are more apt to recognize it. According to the IC3 2011 Internet Crime Report, "The offer for employment can come from a newspaper ad, online employment services, unsolicited emails and social networking sites advertising work-from-home 'opportunities.'"
According to the Federal Trade Commission Consumer Protection Division, many of the scams involve the job seeker paying money for a kit or materials before making any income. Be wary of a job opportunity that has an up-front cost. A legitimate job will pay you money, not cost you money.
Other common scams have an "employee" being asked to accept packages and sell the contents. For their time, the employee keeps a percentage of the proceeds and sends the rest back to the "company." An even simpler scam asks the "employee" to just accept transfers of funds into their bank account and pass on 90 percent of the funds to another party. Unfortunately, these scams can be an illegal, money-laundering business, and the "employee" can face criminal charges for helping move stolen funds.
The criminals behind work-from-home scams are exploiting unemployed or underemployed individuals looking for a way to earn a living. Awareness and education are key to helping stop these scams. Take a few minutes to share this column and talk to your family and friends about online scams.
To report a work-from-home scam, visit the Internet Crime Complaint Center (IC3) at www.ic3.gov.

Today's Quick Tips:
Today's tips relate to work-from-home scams and come directly from the IC3 2011 Internet Crime Report:
Be wary when replying to unsolicited emails for work-at-home employment.
Be cautious of exaggerated claims of possible earnings or profits.
Beware when money is required up front for instructions or products.
Be leery when the job posting claims "no experience necessary."
Do not give your Social Security number when first interacting with your prospective employer.
Beware of promises to make fast profits.
Do not assume a company is legitimate based on appearance of a website.

To get more great information about staying safe online, including access to free monthly newsletters, webcasts and more, visit the Center for Internet Security at www.cisecurity.org. Stay tuned for our next chat!
Kristin Judge is the Executive Director of the Trusted Purchasing Alliance, a division of the Center for Internet Security. She can be reached at kristin.judge@cisecurity.org.