Posted on
Thu, Jun 17, 2010 : 10:05 a.m.
Ardmoor Avenue water service in Ann Arbor interrupted as result of West Stadium construction
By Edward Vielmetti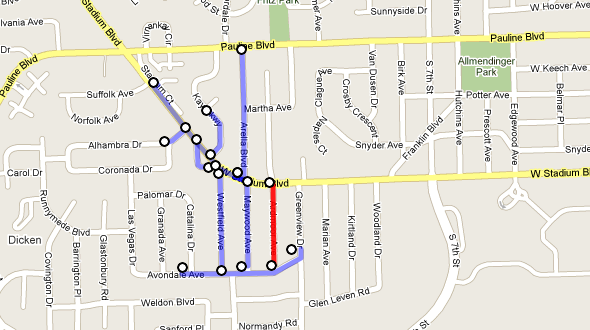 Google Maps
Ardmoor Avenue between West Stadium Boulevard and Avondale on the west side of Ann Arbor is without water this morning. Crews working on the West Stadium road, water, and sewer construction discovered that the Ardmoor main was not fed from the east as it had been documented in the city's water main record drawings. So their work at the site unexpectedly interrrupted residents' service. This main will be reconnected as quickly as possible, according to an e-mail sent to residents by Elizabeth Rolla, Senior Project Manager, and crews hope to complete the work this afternoon.
Other streets scheduled to be affected by today's work include Avondale (Catalina to Greenview); Maywood (Avondale to W. Stadium); Westfield (Avondale to W. Stadium); Arella (W. Stadium to Pauline); Stadium Court; Kay Parkway (W. Stadium to Chapel Court); Alhambra (W. Stadium to Coronada); and West Stadium (Suffolk to Maywood). Residents of those streets had been notified on Monday.
When water is turned back on, it may have an orange or rusty appearance, similar to the orange water sometimes seen after a water main leak or the periodic water main flush. If your water turns orange, run the cold taps until it clears. Don't do laundry if your water is orange; if you do notice rust stains on clothes, don't dry them in the dryer before treating the stains.
Edward Vielmetti is the lead blogger at AnnArbor.com.