Posted on
Mon, Aug 23, 2010 : 4:20 p.m.
Rain dampens turnout, fundraising for Ann Arbor Senior Center's Picnic in the Park
By Anna Fuqua-Smith
The second annual Picnic in the Park event hosted by the Ann Arbor Senior Center in Burns Park on Saturday didn't prove to be as successful as organizers hoped - a steady, daylong rain forced vendors and attendees to huddle under a tent to stay dry.
A total of 17 vendors were scheduled to attend Picnic in the Park, including food vendors, a blood pressure station and four senior housing communities. Not all 17 showed up, however, because of the weather.
The event also featured live music, face painting for kids and fencing demonstrations by the Ann Arbor Sword Club, which gave the roughly three dozen picnic goers a chance to fence.
Judy Trenton, a volunteer at the senior center, said the rain kept a lot of people away. She worried that the lack of attendance would have a negative effect on the senior center, which is working to change its image in the community and attract a wider audience.
Earlier this year, the senior center was on the verge of being closed because of city budget cuts.
"With the changes in the budget, the city is really requiring us to increase our fundraising, which isn't going to happen today," Trenton said.
Because of the tight budget, many of the items for Picnic in the Park are donated, Trenton said, to help the center raise money.
"We were able to get some local vendors like Ferguson Enterprises to donate the grill for the food and some tools for the silent auction. The Heidelberg donated some of the food including the bratwursts." Trenton said. "It's nice to keep these contributions coming."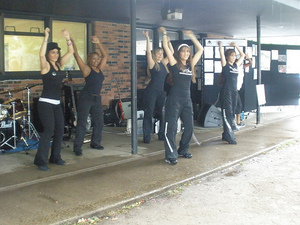 Photo by Anna Fuqua-Smith | For AnnArbor.com
Donna Lim and Debbie Lim, owners of Fitness Motivators, gave demonstrations of the fitness classes they plan to teach at the center on weekday evenings and Saturday mornings this fall.
"We are going to have Zumba, Z-box fitness. Z-box fitness is a fusion of cardio boxing, dance, strength training, and a little bit of Zen, which is a little similar to tai chi. Then it also includes complete body toning." Debbie Lim said.
"It's fun new programs that were going to bring to the Ann Arbor community. And then we have kid's hip-hop. It's for any age."
Anna Fuqua-Smith is a summer intern for the Community Team at AnnArbor.com. Contact the staff at community@annarbor.com.