Posted on
Thu, Apr 1, 2010 : 6:02 a.m.
Mack Pool and Ann Arbor Senior Center likely to stay open after July
By Ryan J. Stanton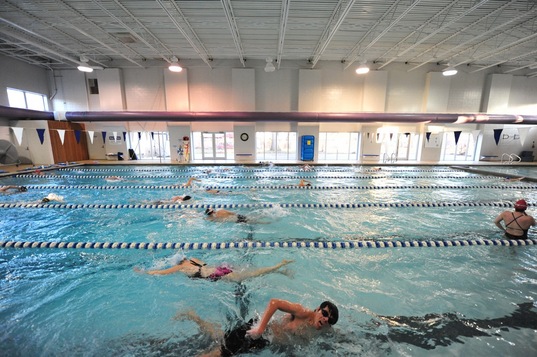 Ryan J. Stanton | AnnArbor.com
Jim Webley first started swimming at Ann Arbor's Mack Pool in 1976 as a way to lose some weight and tone up.
"I went to school here at Michigan, and during medical school, I was pretty out of shape," he said. "So I started swimming."
Mack Pool Recommendations
This is the list of recommendations made to cut the general fund subsidy of Mack Pool down from $102,413 to $55,485.
Purchase and install a thermal blanket for energy savings and install LED lights on the pool deck — $12,000
Decrease the number of computers and applications — $11,000
Raise fees 25% for masters swimming and season passes — $8,375
Add a masters Saturday morning class and fundraiser — $3,080
Increase pool rental — $12,500
Three decades later, Webley, a doctor in West Bloomfield, regularly makes the 45-minute commute back to Ann Arbor to participate in evening masters swim classes at Mack Pool.
"This is my home away from home," he said, stepping out of the pool after swimming 180 laps on a recent evening. "I've been swimming here over 30 years. It's a great group of people, we now have wonderful coaches, and the workouts are interesting."
Webley is one of hundreds of users of the city-run indoor pool relieved to hear the facility likely will stay open after July.
Mack Pool had been slated to close in the latest round of city budget cuts, but a task force comprised of citizens and community leaders worked to save it. Through their efforts over the last several months, task force members identified ways to trim costs and increase revenue, ultimately recommending a plan that reduces the city's general fund subsidy of the pool from $102,413 to $55,458.
City Administrator Roger Fraser is expected to present his 2010-11 budget to the City Council on Monday, recommending both Mack Pool and the Ann Arbor Senior Center remain in operation. The senior center, located near Burns Park, also was slated to close in July due to budget cuts, but a separate task force worked on a plan to keep that facility open, too.
The Senior Center Task Force has recommended a plan to reduce the annual deficit for the facility from $151,687 to $43,815.
That still leaves about a $100,000 annual subsidy from the general fund for both Mack Pool and the senior center. City officials say that's a reasonable amount to expect to run both operations.
Council Member Carsten Hohnke, D-5th Ward, said city officials still are negotiating with Ann Arbor Public Schools to modify a 1974 agreement to incorporate cost-sharing for Mack Pool and provide more hours for city programming. The city also is exploring the idea of a swim school or similar programming, which could bring in tens of thousands of dollars in additional revenue.
Hohnke said the goal is to continue to find ways to make both the senior center and Mack Pool sustainable, so no general fund subsidy is needed.
"We've identified a bunch of new programs we think are going to be successful at the pool," he said. "We have a long list of great ideas, and so my expectation is that that gap will get smaller and smaller as we get better with the marketing and the programming and jiggering the hours here and there in the schedule. My take is that in two or three years, even without a swim school, we will close that gap just by implementing what we've learned through this whole process."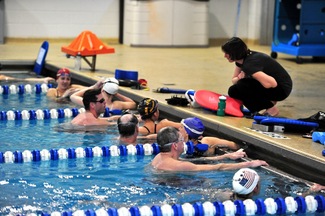 Ryan J. Stanton | AnnArbor.com
Council Member Christopher Taylor, who sits on the Senior Center Task Force, said he was encouraged by the community's response over the past several months to the possible closure of the senior center.
"It's an important facility because this is a population that is generally in need of community, and the senior center helps provide that," said Taylor, D-3rd Ward.
Taylor said the senior center will be decreasing computer costs and IT costs, restructuring staffing, reducing building hours and instituting a membership fee of $25 per individual and $35 per couple. He noted a survey of users indicated a willingness to pay those costs.
The city for the first time also is tapping into a $100,000 donation bequeathed to the senior center in recent years by a member of the community. The task force recommends using $37,333 of that to bridge the gap in next year's budget.
Hohnke pointed out the city received grants to install new LED lights at Mack Pool. That, coupled with a new thermal blanket for the pool, is expected to reduce annual energy costs by $12,000.
The task force also recommended raising fees for using Mack Pool, which came with overwhelming support from users in a survey.
Senior Center Recommendations
This is the list of recommendations made to cut the general fund subsidy of the Ann Arbor Senior Center down from $151,687 to $43,815.
Decrease computers and applications — $14,000
Institute a membership fee — $12,500
Expand programming — $13,076
Expand trip program — $3,390
Instructor agreements — $1,985
Fundraising/donations/advertising — $6,500
Building hours — $12,055
Staffing changes — $7,033
Flinn bequest — $37,333
"We did an analysis of what season passes looked like at other public facilities in the surrounding areas and we were way at the low end," Hohnke noted. "So even with this increase, we're still kind of in the bottom of what we charge."
Hohnke acknowledged that the savings found in Mack Pool and the senior center are small in comparison to the city's larger budget problems. The city still must address an additional deficit of $5.2 million in next year's budget, and details of the plan for achieving that will be known after Fraser's budget is released on Monday.
"I think this is an important example of proactively working on our budget and saying how can we find a way to continue to take pressure off of the general fund," Hohnke said. "This approach of getting people together and taking all that horse power in the community - that energy, the experience and skill sets - and say how do we continue to refine the services we deliver, is a great approach."
Bethany Williston, an evening masters swim coach, said the news that Mack Pool likely will stay open is a relief to hear after months of uncertainty. On a recent evening, she gestured to a row of plaques that line one of the walls at the end of the pool while discussing what Mack Pool means to Ann Arbor.
"We are hoping to defend our title and win at the Michigan masters state meet again in three weeks, and you can see we've got a lot of plaques on the wall from previous state meets, so we're a strong masters team," she said.
"And you can see how many people are here swimming tonight just in this one hour-and-a-half time period," she added. "We have 30 swimmers in here and there are more kids coming in and families coming in. It's the only indoor city pool, so it makes sense that we will keep it open."
Users of Mack Pool call it a "jewel in the rough." Members of the masters swim class range in age from 20s to 70s. Some swam competitively while growing up or in college, some are training for triathlons, and others are just now starting to learn basic techniques.
"It would have been a personal disaster if the pool closed," Webley said. "I don't know what I would have done without the structure of the team here. So that's too good to be true that it's staying open."
Ryan J. Stanton covers government for AnnArbor.com. Reach him at ryanstanton@annarbor.com or 734-623-2529.