Posted on
Thu, Feb 18, 2010 : 12:18 p.m.
Flurry of February activity and activism
By Ann Farnham
Farnham | Contributor
This month has been a busy one for our family with school-aged, AAPS kids. It was full of school activities and renewed school-related activism. School and community are front and center in my life right now: my daughter's student number came up yesterday in the
Community High School 2010 lottery
. It seems I am part of the Community community now.
It has been a constant theme this month. I attended the NAAPID celebrations at Pittsfield Elementary in early February. This year the event was geared towards parent appreciation. It was a wonderful program put together by one of the teachers, with support from school and Pittsfield PTO, and it really was a family event. Ms. Armstrong's father taught our 5th graders and many of us parents some classic dance moves - I did the Hustle with my daughter that Monday morning just after a bagel and cream cheese welcome-breakfast. The turnout was large and up-beat, friendly and diverse. It was a gift to the community, allowing us to slow down for a bit and get together.
The very next day brought us some snow and the first emergency-based opportunity for the district's robo-call system to communicate with AAPS families. I was grateful to be notified - by phone and by email - by Scarlett Middle School on Tuesday afternoon about the cancellation of all after school activities that day. It meant my child was picked up at the regular release time of day, not stranded at school for an hour while I grocery shopped.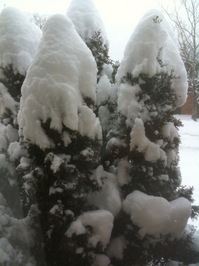 Farnham | Contributor
And when the call came just past 10 pm of the school cancellation for the following day, I was relieved to head to bed, with no need to check at 5:30 on the news or the school hotline. The system worked for me and my family.
Clearly, our schools - Pittsfield and Scarlett - play a vital, active part in my family's life. They provide a focal-point for our community and have generated many great friendships for me and my kids. Getting active at the school a few years ago sealed the deal for me. Our neighborhood schools provide a form of social and community glue connecting us to others in our adopted home.
Earlier this month I coordinated al Pittsfield PTO-sponsored Winter Dance Event with a Sunny Get-Away theme. It was a free event for school families with concession items for sale. It brought us together for more than just a party. It reminded me of all the ways we support each other - and all our kids.
I had 5th graders, middle school-aged alumni and parent volunteers to run the event. My patient husband picked up the 20 pizzas from Little Caesar's. One school family performed DJ and MC duties for the two-hour evening event. Staff and teachers attended - some with their young children and grandchildren - to dance, play, and celebrate with our school families. It was most fun to watch the large crowd of kids, parents, grandparents, and teachers do the cha-cha-slide - and some of those classic dance moves like the Hustle - on the dance floor, warming up the February evening.
These experiences are priceless. They fill us up. They communicate what school community means in ways we can all understand: from the one-year-old sibling who smiled and bobbed to the beat of the music; through to the parents of ESL students who required no translation; to the grandparents of students watching their second generation attending their neighborhood school. It connects us. I am smiling just remembering the scene.
Pittsfield's Kindergarten Round Up is happening tonight for little ones looking for a great, all-day Kindergarten program in a small, friendly school community. My kids walked to this school every day as part of a neighborhood school experience. It is what my husband and I both had at our schools back home in Canada. It was one of the big draws for us coming to this great, neighborhood public school. For the first time in a while, I won't be able to attend it due to a schedule conflict. I hope they have a good turnout for the fall Kindergarten class at Pittsfield.
Tonight, instead, takes my family downtown to AAPS Orchestra Night at Hill Auditorium on the U of M campus. If you've never been to this annual winter musical event, it is a genuine Ann Arbor treat! Last year was our first year attending. We went in support of our then-7th grade orchestra player for Scarlett Middle School.
All middle and high schools are represented in orchestral performance at this open-to-the-public, free concert. And, although we pleased and proud to hear our child perform with her small but mighty orchestra, it also was a chance to experience and appreciate the real breadth and depth of musical talent nurtured through the secondary grades by AAPS's music education program.
What a night of performance it was. I was moved to tears by some of the high school symphonic pieces and still get goose-bumps recalling the Huron Symphony Orchestra performance of a piece I used to sing as a lullaby to my kids years ago. It was a powerful night of music and affirmation for the active choices made for our kids. It was - and is - some of the best evidence in support of AAPS and music education. I can't wait to experience it all again tonight.
This week also brought me back to some volunteer work at the Ann Arbor PTO Thrift Shop, after a nagging winter cough kept me out of action for a bit. Being in their resale shop environment - lending a hand, and seeing first-hand the great support for enrichment being offered through the Shop - just plain feels good. It feels right.
I shop there, I volunteer there, and I donate there. This was especially true this week. I was able to deliver 9 or 10 bags of gently used items donated by a family moving out of state from my neighborhood. I was contacted by a friends of friends, in order to donate in support of the schools. Did I know where they could do that? Yes.
These folks don't have kids in AAPS but thought to support the schools, aware of the budget challenges facing the district. That's walking the walk for the community. It was a generous, gracious parting-act as this couple moved away for work.
It struck me that this is what a community does when faced with challenges. It pulls together time and again, and walks the walk to get things done. There is a lot of talk going on all around us on what to do in these times of budget cut-backs. And talking is good. Getting active is even better.
Find a way - even a small way - to act on behalf of Ann Arbor schools, local school kids and their families. Next week, AAPS kids are all on their annual Mid-Winter Break and many of us will be out there in the community - in shops, libraries, skating rinks, sledding hills, restaurants, movie theaters, recreation centers, pools, and play-zones - with their families, friends and caregivers.
AAPS families support the community every day - especially during these breaks. You will notice them all over Ann Arbor. Pay attention and start thinking about how you can get active or be activist - as a parent, neighbor, local business, and as a partner - in support of them and your local schools. Contact your neighborhood schools, PTO's, PTOS's, AAPS district office, the AAPS Education Foundation and/or the Ann Arbor PTO Council to explore ways you can act in support of the local school kids.
I can tell you from personal experience, however you choose to act on their behalf, it feels good to get involved and make a difference.