Posted on
Wed, Dec 19, 2012 : 5:59 a.m.
3-story development on Detroit Street wins approval from Ann Arbor Planning Commission
By Ryan J. Stanton

Rendering by Marc Rueter
A developer's proposal to demolish a blighted gas station just north of downtown
Ann Arbor
and
construct a three-story building in its place
is headed to the City Council for approval.
With some enthusiasm in the room, the Ann Arbor Planning Commission voted 6-0 Tuesday night to recommend approval of the project at 544 Detroit St.
Planning Commissioner Ken Clein, who is an architect by trade, said he thought the project architect did a nice job of fitting a well-designed building onto a difficult site.
"It feels like it fits into the historic neighborhood," he said. "It appears like it will be done in a way that's very good quality and will enhance the neighborhood and enhance property values."
Dan Williams of Maven Development wants to demolish the 560-square-foot former gas station and construct a 4,077-square-foot mixed-use building.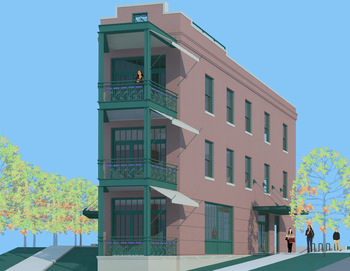 Rendering by Marc Rueter
The first floor would contain 857 square feet of office space, and the second and third floors would contain 1,557 and 1,663 square feet of residential space, respectively.
There would be one condominium on the second floor and one on the third floor. Each story would have steel balconies featuring metal work by a local artist.
The proposed flatiron-style building already won approval from Ann Arbor's Historic District Commission in October.
The triangular site, where Detroit Street and North Division Street intersect just before the Broadway bridges, is located in the Old Fourth Ward Historic District.
Chris Crockett, president of the Old Fourth Ward Association, showed up to Tuesday's meeting to let commissioners know many residents who live in the historic district support the project.
She said the property has become distinguished over the years for its blight, and what's being proposed is a "magnificent gateway" to Ann Arbor's oldest residential neighborhood.
"It has elements that resonate of the architecture in the neighborhood, and it also has many artistic elements that are not required, but the developers have chosen to add them," Crockett said.
"I think on some level they really agree with me that good architecture is the best public art, and this certainly will be wonderful public art."
The plans show five parking spaces in a surface parking area on the south part of the site. Bicycle parking would be provided in a room accessed from the parking area.
Due to the small size and constrained shape of the site, the developer requested "planned project" modifications in exchange for a building arrangement that City Planner Jill Thacher said provides the public benefits of pedestrian orientation, transit access and efficient use of infrastructure.
The requested modifications include 3.5 feet of additional building height above the 35-foot maximum, reductions in front setbacks along Detroit and Division streets from 10 feet to 5 feet, as well as a reduction in setback along the rear or south end from 39 feet to 19 feet.
Thacher said the extra building height allows for a decorative parapet on the north end of the building and a stair enclosure on the roof to allow third-floor access to a roof deck.
A four-foot wall is proposed to be extended along the entire south property line, wrapping around the parking area to provide screening along North Division. The site contains less than 5,000 square feet of impervious surface, so no stormwater detention is required.
Thacher provide a report of the site's history, noting the property originally was a portion of a much larger lot, which had the address of 501 Detroit St. in the 1880s.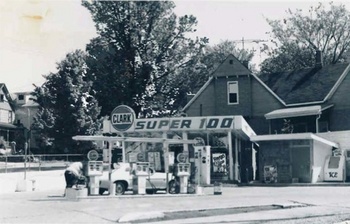 City of Ann Arbor
A two-story barn was located near the intersection of Detroit and Division at one time. By 1892, a two-story house was built in its place with the address 537 Division St.
The house, which appears in 1947 aerial photos, later was demolished and the gas station now located on the property was constructed in 1959. It has been abandoned for 30-plus years.
Crockett said many residents came out to a neighborhood meeting to look at the designs and were delighted by what they saw. They're especially pleased, she said, that coming over the Broadway bridges, there's a possibility that soon they can see a beautiful new building.
Williams appeared at Tuesday's meeting joined by the architect for the project, Marc Rueter of Ann Arbor-based Rueter Associates Architects.
Asked who was his target market for the new housing units, Williams responded "empty nesters," not University of Michigan students.
Ryan J. Stanton covers government and politics for AnnArbor.com. Reach him at ryanstanton@annarbor.com or 734-623-2529. You also can follow him on Twitter or subscribe to AnnArbor.com's email newsletters.