Posted on
Wed, Mar 2, 2011 : 5:59 a.m.
Governor's call to eliminate brownfield credits puts funds for Ann Arbor's Georgetown Mall project at risk
By Ryan J. Stanton
From The Harbor Companies LLC
Financing an environmental cleanup and redevelopment of the polluted Georgetown Mall site in Ann Arbor is proving to be more difficult than expected for a Bloomfield Hills developer.
When Craig Schubiner appeared before the city's Brownfield Review Committee in January, he was seeking roughly $3 million in tax-increment financing over a period of seven years.
That was to help pay for items such as cleanup of contaminated soils, demolition and asbestos removal, which are eligible under the state's Brownfield Redevelopment Financing Act. Now it appears the cleanup costs could be double the original projections.
Gov. Rick Snyder then dropped a bombshell on developers like Schubiner this past month when he called for an elimination of brownfield credits in the state of Michigan.
Schubiner originally was hoping for up to $4.5 million in brownfield credits for Packard Square, a mixed-use project with 230 apartment units and 21,000 square feet of retail space along Packard Street.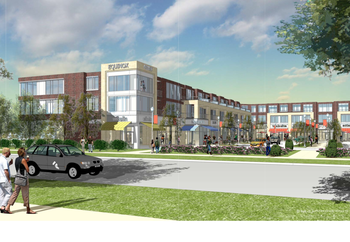 From The Harbor Companies LLC
A brownfield property is one in which site conditions present an obstacle to redevelopment. In Michigan, that can include properties that are contaminated, blighted or functionally obsolete — and the developer of Packard Square is claiming all three conditions exist.
Schubiner appeared before the city's Brownfield Review Committee once again Monday night, joined by Anne Jamieson of AKT Peerless Environmental and Energy Services.
Jamieson said the project's chances of getting brownfield credits aren't dead, but the effort is going to be extremely difficult.
"How it's working is, as of April 1, brownfield credits are going to be put in with a pot of all the other credits available in Michigan that are proposed to be cut," she said. "Between April 1 and Oct. 1, we have an opportunity to get credits approved in the state of Michigan."
However, Jamieson said, Snyder's office is not prioritizing Ann Arbor as one of the core communities for receiving those credits.
"He's looking at more of the urban cores like Detroit, Flint and Pontiac," she said. "So we are pretty much certain this credit is in jeopardy for the project."
Jamieson did most of the talking Monday night, discussing the developer's recently submitted brownfield redevelopment plan for the Georgetown Mall site.
The plan shows nearly $5.1 million worth of costs the developer hopes to get tax-increment financing assistance on, including demolition, lead and asbestos abatement, public infrastructure improvements and other activities. The payback period for that is 12 years.
Through tax-increment financing, no existing taxes are abated. However, the incremental increases in tax revenues that result from improvements to a property are channeled back to the developer to help cover costs and incentivize the development.
The developer provided a additional estimate on Monday for even more cleanup activities that would add $2.3 million in reimbursable costs to the project and extend the payback period to 23 years. Jamieson explained the reasons for the additional costs.
"We did not factor in Ann Arbor's requirements for cleanup criteria before, and basically that doubled the plan," she said, adding it now means removing more soil and water from the site. "Our original proposal included just a dig and haul, and source area removal. We then factored in that we also need to look at Ann Arbor's requirements. And we also met with the state DEQ folks and they had additional requirements."
The developer traces the source of the site's environmental contamination to a dry-cleaning facility that once operated along the southern portion of the property. Previous investigations identified both soil and groundwater contamination, including chlorinated solvents.
Marcia Higgins, one of three Ann Arbor City Council members who comprise the city's Brownfield Review Committee, said the city prides itself on its high cleanup standards.
"When we did our brownfield plan 10 years ago, we deliberately made ours more stringent and that was to make sure that when we had an opportunity to do a cleanup that we cleaned it up to the most pristine level we can, versus paving it over," said Higgins, D-4th Ward. "So that's what we're dealing with here. The state has one level. Ann Arbor has another."
Higgins said she recognizes that it will be more costly to the developer, but that's where the city is willing to consider a longer payback period.
"And that's always to Ann Arbor's benefit because so much of our stuff runs to the river, so it helps on many different levels," she said of the standards.
Tom Crawford, the city's chief financial officer, said he's looking forward to seeing what the developer brings to the committee next month.
"Given the challenges at the state level with incentives being backed off a bit, they need to revisit their financing plan," he said. "They've got a very interesting project that has a lot of potential, but the financing plan is going to have to be revised for the latest information."
If the brownfield tax credits go away, or the rules around them change, it will make projects like Packard Square more challenging financially, Crawford said.
"So it's something developers are really going to have to sharpen their pencils on and try to figure a way around," he said.
Jamieson said the game plan is to try to narrow down the costs before coming back to the city. She said the developer also will be meeting with the state Department of Environmental Quality to secure additional funding. Schubiner said he's eyeing financing from the U.S. Department of Housing and Urban Development, but he declined to elaborate on details.
Schubiner asked Monday night if there were a way the city could expedite approval of the project. City officials said mid-April is likely the earliest it could go before the City Council.
Ryan J. Stanton covers government and politics for AnnArbor.com. Reach him at ryanstanton@annarbor.com or 734-623-2529.