Posted on
Tue, Jan 25, 2011 : 6:02 a.m.
Owner of Ann Arbor's Georgetown Mall site seeking tax breaks on $30 million project
By Ryan J. Stanton
From The Harbor Companies LLC
The owner of Georgetown Mall in Ann Arbor is seeking millions of dollars in tax breaks to help finance a $30 million redevelopment of the former strip mall site along Packard Street.
Bloomfield Hills-based developer Craig Schubiner made his case Monday night to the city's Brownfield Review Committee, which offered positive feedback on preliminary plans for tax-increment financing on a new mixed-use project called Packard Square.
According to plans, Packard Square would be a contemporary development comprised of 230 apartment units and 21,000 square feet of retail space in a pedestrian-friendly design that includes a central plaza, park space and a covered parking garage.
The committee gave the developer the go ahead to finish preparing a brownfield plan and report back on Feb. 28. The committee is made up of Ann Arbor City Council members Marcia Higgins, D-4th Ward; Sandi Smith, D-1st Ward; and Stephen Kunselman, D-3rd Ward.
City officials acknowledged Monday night the city is under no obligation to approve a brownfield plan. Higgins and Tom Crawford, the city's chief financial officer, said city officials will be looking at the project from one standpoint: What's the public getting out of this?
"We are going to be giving them an abatement on their taxes for a period of time," Higgins said. "So some of the things I look at is we're having public infrastructure really improved, whether that's new water lines, new sewers that will be put in, the environmental aspect of this is really important to me, and the streetscapes, and how all of that starts to connect."
Joining Schubiner for Monday's presentation inside the new Ann Arbor Municipal Center was Anne Jamieson of AKT Peerless Environmental and Energy Services.
Jamieson said the developer is seeking tax-increment financing in the amount of roughly $3 million to help pay for items like environmental cleanup, demolition and asbestos removal, which are eligible under the state's Brownfield Redevelopment Financing Act.
A brownfield property is one in which site conditions present an obstacle to redevelopment. In Michigan, that can include properties that are contaminated, blighted or functionally obsolete — and the developer of Packard Square is claiming all three conditions exist.
Through tax-increment financing, no existing tax revenues are abated. However, the incremental increases in tax revenues that result from improvements to a property are channeled back to the developer to help cover costs and incentivize the development.
Early estimates show that would be about $450,000 a year, which translates to an abatement period of roughly seven years. Capture of school taxes will require approval by the Michigan Economic Growth Authority Board and/or the state Department of Environmental Quality.
In addition to tax-increment financing, the developer is seeking Michigan Business Tax brownfield credits and other state grants and loans.
The developer's report to the city said the brownfield credits would be worth between $3.75 million and $4.5 million. However, Jamieson said Monday night that's looking more like $1.25 million to $2 million based on recent feedback from state officials.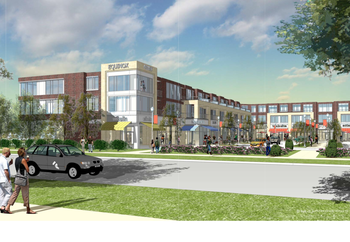 From The Harbor Companies LLC
Higgins offered praise for the project, but said she's anxious to hear more details from the developer at next month's meeting.
"I think you heard the whole committee say that we're very excited about this," she said. "I think it's a positive step forward. Now when we get into it next month — and we're really going through the facts and figures — that's when we'll see if we have any differences."
Jamieson said it's "imperative" the incentives are approved.
"Otherwise, we're throwing money out the door," she said. "You want to be able to make your rental rates affordable, basically for your commercial properties and for your residential. And so really this helps in various ways in being able to reduce those rental rates."
In terms of timing, the developer said the incentives could take up to three months for state approval. Schubiner hopes to start the project this summer and finish by fall 2012.
The Georgetown Mall site has been vacant since Kroger closed its grocery store there in fall 2009, leaving neighbors and both city and county officials concerned about the condition of the property. Regular meetings have been held to discuss the site's future ever since.
Back taxes owed on the property must be paid before the project can proceed. Those taxes totaled more than $277,000 in late December.
Matt Naud, the city's environmental coordinator, said the city is careful about approving brownfield plans, which also must be signed off on by the Washtenaw County Brownfield Redevelopment Authority. He said he looks at tax-increment financing dollars as money that wouldn't be there in the first place if not for the brownfield incentives.
"You wouldn't want to give these incentives to somebody who's going to make a 50 percent return on investment," he said. "You want to make sure that, without this investment, there'd either be no return and the project doesn't work, or just a reasonable return. And I think in this case, this site's been waiting a long time. I don't know that anyone is standing behind this developer with an equally good project that doesn't want any incentives."
Environmental concerns
Before Monday's meeting, the developer submitted a report to the city that outlines reasons why special remedial actions are necessary for the property.
The developer traces the source of the site's environmental contamination to a dry cleaning facility that once operated along the southern portion of the property. Previous investigations have identified both soil and groundwater contamination, including chlorinated solvents.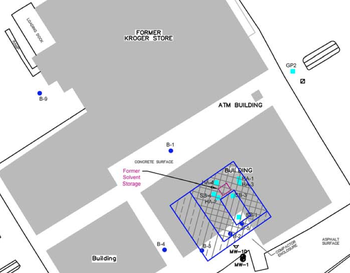 Courtesy of AKT Peerless
After extensive groundwater sampling, the plume was found to be stable, and the last analysis indicated the chlorinated solvents were below any applicable cleanup criteria, according to the developer. Still, to meet DEQ requirements, continued groundwater monitoring is necessary to demonstrate the plume's stability until remediation has taken place.
The developer has determined removal of 1,000 cubic yards of soil and some groundwater is necessary. However, the source area can't be accessed until demolition work has taken place. Those remedial activities are estimated to cost between $337,000 and $387,550.
The developer plans to demolish all existing buildings on the site. Prior to demolition, a survey will be performed to evaluate the site for any lead-based paint, asbestos-containing material and other hazardous materials to be abated.
In addition to environmental concerns, the developer claims many features of the existing buildings are functionally obsolete, including deteriorating facades. Also, the sizes of anchor retail spaces aren't conducive to a grocer like Kroger or a drug store chain like CVS.
The developer also notes many aspects of the existing development are blighted, and vandals have spray-painted the buildings and broken some windows. The parking lot is severely deteriorated and has numerous cracks and potholes.
The developer estimates the new project will support 285 construction jobs. After completion, it's estimated to support 40 retail jobs and five jobs related to operating the complex.
Most of the 230 units would be one and two bedrooms, with a small handful of three-bedroom units. Estimated rental rates are $786 to $926 a month for one-bedroom units, $1,056 to $1,140 a month for two-bedroom units, and $1,371 a month for three-bedroom units.
"Packard Square will provide a fresh, upscale living environment that includes amenities such as a gym, pool, reading room, video room, yoga room, conference room, recreation areas, and potentially a new AATA bus stop directly in front of the project," the project narrative states.
Schubiner declined to say Monday whether he'd consider revising plans based on feedback he received from Mary Krasan, a Georgetown Neighborhood Association spokeswoman.
"There's a bit of discomfort with the number of units," Krasan said during Monday's meeting, adding many nearby residents have concerns about potential increases in traffic and noise.
"So instead of 230 apartments, it would be maybe 190," she said, adding the neighborhood also would like to see more three-bedroom units included in the plans.
"We've been working on developing this site now for several years and we're excited about the plan," Schubiner said. "It meets the market needs, and architecturally it'll be great. And it's going to provide a great environment for people who live there as well as residents in the surrounding area, and the public elements of the plan will provide great gathering spaces."
Ryan J. Stanton covers government and politics for AnnArbor.com. Reach him at ryanstanton@annarbor.com or 734-623-2529.