Posted on
Wed, Mar 27, 2013 : 2:59 p.m.
5 University of Michigan union contracts ratified in advance of right to work
By Kellie Woodhouse
Right-to-work legislation takes effect Thursday, but five University of Michigan unions won't have to worry about its impact for several years.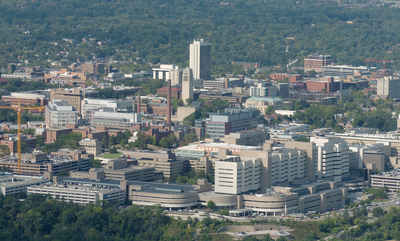 Four of the five unions opened negotiations early in
an effort to reach agreements ahead of right-to-work
, which was passed by the Republican-controlled state Legislature in December. The law says unions can't mandate dues from employees they represent; however, contracts ratified before March 28 may still include language that requires workers to pay fees for the duration of the contract.
Knowing unions would be open to making concessions, U-M agreed to negotiate early. The fifth agreement, with the lecturers union, was negotiated in advance of it expiring this spring.
And while the four- and five-year contracts aren't as long as those reached by some schools and municipalities —such as Wayne State University's eight-year agreement with its faculty union— U-M could face serious, and expensive, backlash for helping unions skirt the law.
A house subcommittee has recommended penalizing the university by cutting 15 percent of its appropriations, or $41 million, if officials didn't achieve adequate cost savings. When Republican representatives proposed the measure last week, U-M administrators had already signed off on the agreements and sent them to union memberships for ratification.
Throughout the bargaining process lawmakers' threats to withhold funding created a tense atmosphere between the university and unions, according to officials from the school's lecturers union.
Bonnie Halloran, president of U-M's lecturers' union, has said the subcommittee recommendation to cut funds is unfair. "Nothing illegal is being done," she has said.
U-M Board of Regents chairwoman Denise Ilitch said the school "can't respond to threats."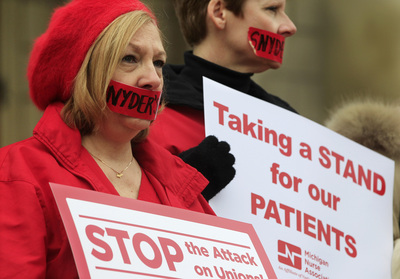 AP Photo | Carlos Osorio
Yet architects of the proposed penalty say it's not a threat, but a measure meant to hold officials accountable.
"I think we've sent a pretty serious message here," Rep. Al Pscholka, R-Stevensville, told MLive after a subcommittee on higher education, which he chairs, passed the measure in a 4-3 party-line vote March 19. "And hopefully it's received. The message is: Protect taxpayers. If you're going to do contracts, make sure that you come up with real taxpayer savings."
In an interview Tuesday, Pscholka said the length of the five-year lecturers contract is "curious" given that the last contract was for three years. He said his committee is mainly concerned with contracts related to U-M's education arm, such as the lecturers and graduate employees unions, and not those related to the health system.
None of the contracts in question, he said, appear to achieve adequate cost savings.
"What they've told me is that they have all this leverage to do all of these great deals for taxpayers and that they're saving taxpayers money," Pscholka said of U-M. "I have not seen any taxpayer savings at all."
Between March 21 and March 25 all five U-M unions ratified their contracts. Each agreement includes lower increases in base pay than previous contracts and all raises are lower than 3 percent.
The five agreements represent 11,600 employees, or the vast majority of union workers at the university. There are nine unions at the school and, collectively, members pay at least $5.36 million in annual dues.
The 1,100-member house officers union, which represents medical residents training at the health system, ratified a four-year contract that expires June 2017. Pay increases range from 1.5 percent to 1.85 percent.

The lecturers union, which represents 1,500 non-tenured teachers at the school's three campuses, agreed to a five-year contract. Ann Arbor lecturers will receive no raise in fiscal 2014, a 1.5-percent raise in 2015, 2-percent raises in 2016 and 2017 and a 2.75-percent raise the last year of the contract.

The 1,800-member Graduate Employees Organization, which represents graduate students who also teach, ratified a four-year contract that will expire in May 2017. The contract renegotiated raises set to take effect in September from 3 percent to 2 percent. It includes 2-percent raises each year, lower than the nine-year average of 3.3 percent.

The 2,400-member American Federation of State, County and Municipal Employees agreed to a four-year contract expiring in June 2017. The new contract includes two years of lump-sum payments in lieu of base increases, followed by a 1 percent raise and then a 2-percent raise the final year of the contract. Over the past three years, the union members had averaged a 2.2-percent annual wage increase.

The 4,800-member Michigan Nurses Association ratified a five-year contract, which will expire in June 2018. For the first year of the contract, nurses will receive a 4 percent raise, which was stipulated in the union's prior contract. For the next three years nurses will receive 1.25 percent raises, with certain nurses receiving $1,000 lump-sum payments, according to an MNA official. The last year of the contract includes a 1 percent raise. Throughout the contract, nurses can move up a payment ladder and receive step increases. The union's prior contract provided for 3 and 4 percent raises over the course of three years.
Kellie Woodhouse covers higher education for AnnArbor.com. Reach her at kelliewoodhouse@annarbor.com or 734-623-4602 and follow her on twitter.