Posted on
Tue, Mar 19, 2013 : 12:13 p.m.
$41M in state funding for University of Michigan at risk under house bill
By Kellie Woodhouse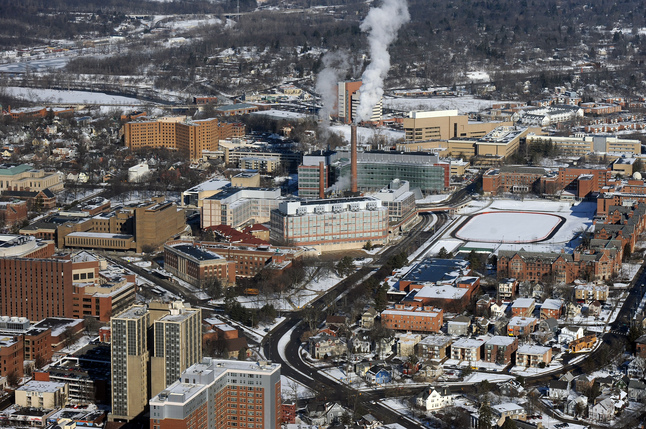 Melanie Maxwell I AnnArbor.com
A sizable chunk of University of Michigan's state funding is at risk under a proposed funding model passed this morning in a 4-3 party-line vote by a state House higher education subcommittee.
The proposed budget —which includes an 2.2 percent increase in higher education funding— punishes universities that enter into labor contracts "under certain circumstances" prior to right-to-work legislation taking effect on March, 28, 2013, and don't achieve a 10 percent cost savings.
It could cost U-M, which has entered into tentative agreements with the the institution's lecturers and nurses, $41 million.
"There are elements of this proposal that are very disappointing," Cynthia Wilbanks, U-M vice president for governmental relations, offered in a statement.
The right-to-work stipulation was in part sparked by a controversy over Wayne State University entering into an eight-year labor agreement with faculty in an effort to avoid the effects of right-to-work legislation.
"As far as I can see it's bullying from the legislature," said Bonnie Halloran, president of U-M's lecturers union, the Lecturers' Employee Organization. "Nothing illegal is being done."
Halloran said she is unsure if the bill's right-to-work stipulation applies to LEO, as the organization entered into a tentative agreement in March but began negotiating in November, prior to the legislation's passage. Halloran says her union is set to ratify its contract, which includes no raises the first year, health care cuts and retirement cuts, by Thursday evening.
U-M spokesperson Rick Fitzgerald said university officials have already signed off on agreements with the nurses and lecturers, although the two unions are in the process of ratifying those contracts.
Kyle Jen, deputy director of the House Fiscal Agency, said the proposed budget is the first time he can recall higher education funding being tied to a labor issue.
The provision reads:
Provides that funds appropriated for fiduciary responsibility in employee contracting be paid to a university only if it does not extend, renew, or enter into a labor contract under certain circumstances between December 10, 2012 and March 28, 2013 without achieving 10% or greater savings and does not enter into a contract between the same dates that contains only terms that constitute a union security agreement that requires any of several specified employee actions as a condition of employment.
Right-to-work legislation was passed by the Republican-controlled state legislature in December, and under it union members have the freedom to choose whether to pay union dues. Several Washtenaw County unions are trying to establish new contract agreements before the law goes into effect in order to avoid a drop in fee revenue.
It remains to be seen whether the subcommittee's proposed budget, and it's right-to-work stipulation, will survive future votes in the House and Senate as the budget process continues.
"This is not the end of the process," Wilbanks stated. "We have more hard work to do in the weeks and months ahead."
Rep. Al Pscholka, R-Stevensville and chair of the subcommittee, said the House bill would reward universities that take steps to be financially responsible. Meanwhile, Rep. Sam Singh, D-East Lansing, said the legislation puts "politics ahead of good policy."
The bill also includes language asking U-M to disclose information about its stem cell research, but does not tie the disclosure to funding, as the committee tried to do last year.
Without the penalty, U-M is set to receive $278.9 million in state appropriations, a 1.7 percent increase over this year.
Kellie Woodhouse covers higher education for AnnArbor.com. Reach her at kelliewoodhouse@annarbor.com or 734-623-4602 and follow her on twitter.