Posted on
Wed, Mar 27, 2013 : 5:58 a.m.
University of Michigan considering raising student fees to fund gym renovations
By Kellie Woodhouse
University of Michigan officials are looking at renovating the school's three recreational centers —upgrades students and faculty have been requesting with increasing frequency— and are considering raising student fees to help pay for construction.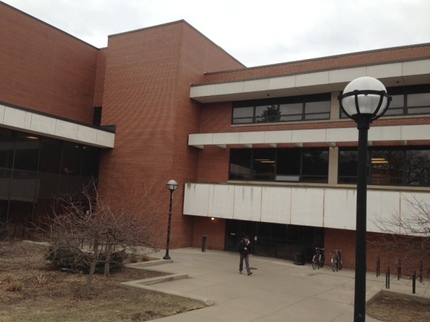 Kellie Woodhouse | AnnArbor.com
"In comparison to the other major universities around here and in the Big Ten, U-M doesn't have up-to-standard facilities," offered social work graduate student
Tarkington Newman
after he finished exercising at the
Central Campus Recreational Building
Tuesday.
U-M's gyms are often criticized as aged, crowded facilities with out-of-date equipment and lackluster ambiance. They're meant for use by the general student body and not funded by the athletic department.
During a March 21 Board of Regents meeting board chair Denise Ilitch said the governing board is having a "robust" conversation about ways to fund renovations to U-M's gyms and unions. There is no set revenue stream that pays for U-M's three recreational facilities — which were constructed in 1928, 1976 and 1977 — and that would naturally fund renovations.
"They're pretty bad," U-M Provost-elect Martha Pollack said of the recreational centers during a March 18 meeting with faculty. "There's a lot of discussion about how to improve them and how we're going to find the funds for that."
Ilitch said regents discussed raising fees, which are separate from tuition, to help pay for the renovations. She also said the university was looking at other revenue streams to further subsidize renovations.
U-M students pay an $80 registration fee, about $8.70 in student government fees and an $8.50 legal fee. Pollack said the university has relatively few fees compared with other institutions. Resident tuition and fees at U-M are about $13,000 a year.
Ilitch said during initial discussions she was concerned with raising fees and increasing the financial burden on students.
During the March 21 meeting, U-M student government president Manish Parikh lobbied regents for the renovations.
"In my conversation with students ... they emphasized how important these facility changes are," said Parikh, a senior. "If it did require a student fee, I feel confident in saying most students would be comfortable with it."
After a workout Tuesday, freshman engineering major Carli Oster agreed that U-M's gyms are "definitely lacking," but said she wouldn't want the school to renovate the gyms if it meant raising fees.
"Tuition is already too much for me," she said after exercising at the CCRB Monday.
Finding an adequate funding source is the primary reason renovations have been delayed. U-M President Mary Sue Coleman has repeatedly asserted that she does not want to redirect funds from academics to recreational facilities.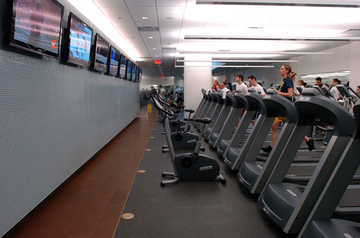 AnnArbor.com file photo
"We know they need work," Coleman said of U-M's recreational facilities during a fall interview. "Funding is difficult."
Over the past decade Coleman has allotted more than a half billion dollars toward dorm renovations, which were funded in part by increasing housing rates at the university. The lack of such a straightforward funding source for the school's aging gyms poses a difficulty for the school.
Victoria Liu, a freshman majoring in business, said she wouldn't want fees to increase in order to renovate gyms. She said, however, that there is "clearly a demand" for nicer gyms at the school.
The Stephen M. Ross School of Business operates a relatively new, spacious fitness center for which membership requires an additional fee. The gym is popular among students, although membership is limited.
As officials consider the logistics, they acknowledge the need for renovations.
"[In the future] I see renovated recreational areas where students will be able to work out in state-of-the-art facilities," Ilitch said.
Kellie Woodhouse covers higher education for AnnArbor.com. Reach her at kelliewoodhouse@annarbor.com or 734-623-4602 and follow her on twitter.