Posted on
Mon, Sep 17, 2012 : 1:24 p.m.
Dorm renovation tab to reach $500M as University of Michigan plans $60M renovation of South Quad
By Kellie Woodhouse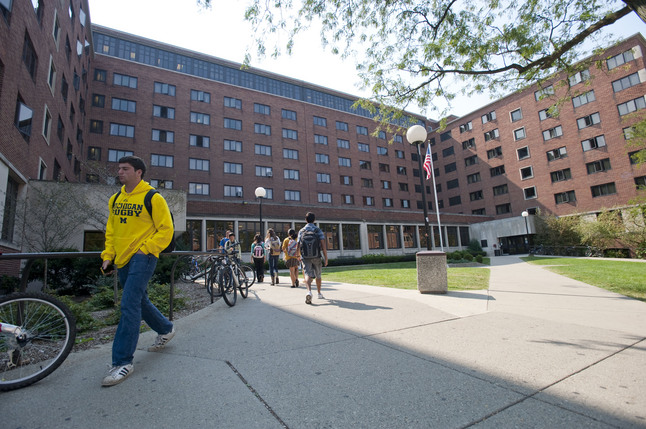 Courtney Sacco I AnnArbor.com
The eight-year tally for on-campus housing development at the
University of Michigan
will reach $500 million next year if the Board of Regents approves a $60 million renovation of its
South Quadrangle
residence hall.
U-M has spent $440 million to renovate eight dormitories and dining halls, including the current $116 million renovation of East Quadrangle, which is taking place this year. A refurbished Alice C. Lloyd Hall opened this year, after a $56 million investment, and has amenities and furnishings that rival the new luxury student high-rises popping up around Ann Arbor.
With another residence hall in line for a major upgrade, it's clear U-M is changing its standard for on-campus housing.
Yet the renovation of U-M's 1,180-bed South Quad dormitory won't be as sweeping as those in recent years. Most notably, it won't include a renovation of the dorm rooms, but will instead focus on community spaces.
Whereas up until now U-M has renovated residence halls in their entirety, South Quad's restoration will be limited to the building's first two floors. The renovation will address 106,700 gross square feet of the residence's 390,000 total gross square footage.
Plans include expanded dining facilities, refurbished lounges, updated bathrooms and the creation of group study spots and other community hubs. The building's infrastructure, including plumbing, heating, cooling, ventilation and fire systems, also will receive upgrades. South Quad was built in 1951 and in the early 1990s the hall's windows were replaced, library updated and elevators rehabilitated.
South Quad renovations likely will begin in the summer of 2013, U-M associate director for construction and design Jerry Schulte said in May. West Quad will follow and construction likely will start during summer 2014 and cost in the $100 million range, Schulte said.
In a memo to regents, university officials said the project is "part of the ongoing Residential Life Initiative," the program that backed more than $400 million of the residence life improvements since 2006.
Regents will decide whether to approve the renovation during their 4 p.m. meeting on Thursday at the Michigan Union.
U-M President Mary Sue Coleman has called the initiative one of her top accomplishments since becoming president in 2002. Her employment contract specifically states that she is tasked with continuing the initiative in order "to improve university housing across the campus."
Many U-M dormitories were built between the 1940s and 1960s and have not received major renovations since. Prior to the initiative, more than 30 years had passed without major dormitory construction, Coleman said.
Although student housing is far from the only factor students consider when choosing a college, it is often a consideration when students have multiple top choices and colleges are now competing with one another to provide top-notch dormitories.

View South Quadrangle in a larger map
Kellie Woodhouse covers higher education for AnnArbor.com. Reach her at kelliewoodhouse@annarbor.com or 734-623-4602 and follow her on twitter.