Posted on
Wed, Jan 27, 2010 : 9:54 a.m.
10 questions for Ann Arbor City Council Member Stephen Kunselman
By Ryan J. Stanton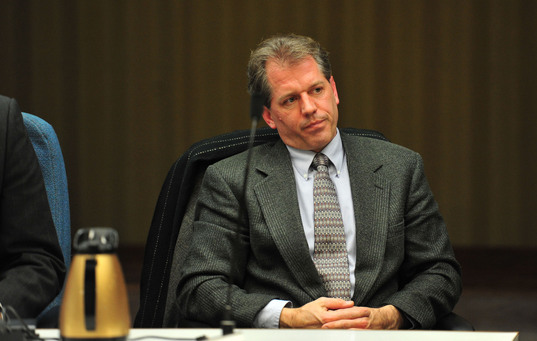 Ryan J. Stanton | AnnArbor.com
After a one-year hiatus, Stephen Kunselman squeezed his way back onto the Ann Arbor City Council in November by beating incumbent Leigh Greden by a six-vote margin in the Democratic primary.
Already in his first two months back, the 3rd Ward council member is making waves - often as a critic of his own city government and sometimes the Lone Ranger during debates. For instance, when council members voted last month to move forward with designs for an estimated $750,000 sculpture by a German artist in front of the new police-courts building, Kunselman was the lone dissenter.
Kunselman sat down with AnnArbor.com to catch up on what's making him tick and what's ticking him off. Read on.
Q: How do you feel you're making a difference being back on council?
A: The big issue I see myself having made a huge difference on is that our budget is going to be more transparent. We heard at the last meeting that Roger Fraser is talking about posting the budget information online, and I think this is a direct correlation of my asking the questions. Our charter states that we are to receive on the 10th of every month a budget update of what's been spent, what's coming in for each month. That had not been done for years and the fact that it's now going to be done is a direct correlation of my being back on council.
In addition to that, I think the Public Art Commission now has greater scrutiny over how they've been operating. Again, it's a direct correlation of the questions that I ask at the council table about where the money's going and where it's coming from.
Q: You've shown you're not afraid to speak your mind at City Council meetings, even if it means criticizing the city you serve. Why do you do it?

A: I think it's important that the hard questions be asked. What I find very interesting about this council compared to my time before is that when I first ran in '06, I was running on a platform of how there needed to be discussion at the council table because, as we found out a few years after that, a lot of the decisions were being made via e-mail prior to the council meeting. Now that that is no longer the case, I've had this "Oh, my God" moment, "They just won't shut up." And they seem to talk and talk, and the meetings are going a lot longer. But the substance is not necessarily there. There's a whole lot of posturing, a whole lot of politicking. I bring substance to the table and will ask very hard questions so that the public at least knows that my thoughts are in line with their thoughts. It is a new dynamic, it does make for longer meetings, but I guess that's what I signed up for.
Q: Let's talk about the Library Lot. What's your take on what's happening there with the RFP process and the debate between open space and development? Is the fix in for a hotel and conference center?
A: I think it would be a strong statement to say there's a fix in. What I see is that this is just the same old script that council uses to go in a direction that they all think is important for economic development. Let's remember, economic development is not a function of our city charter. It is not a core service. And it is something that apparently these number of council members who are pushing this want to engage in because the idea and the power associated with wheeling and dealing is something that sometimes consumes some politicians. I've never engaged in that. I don't feel that's appropriate at all with my city tax dollars.
So again, this is just the same old script. They did that at the Y site and we've seen what's happened there. We're losing money on an annual basis by paying interest-only payments for the Y property. We will lose money by subsidizing the convention center. The idea that this is what people want is absurd.
Q: What do you want to happen with the Library Lot?
A: I've always been a great fan of public-public partnerships and I have said from day one that we need to work with the public library and the public schools and even the AATA. We have a big piece of land in the middle of our community that should be multipurpose and the DDA has all the ability, under our state enabling legislation, to finance the construction of a new public library. Unfortunately, there is not a whole lot of interest, probably because there have been other promises likely made of how that's going to come about. I think a public library on that site would be best.
Q: Let me shift gears to the city budget. According to the latest projections, there is a need to trim the budget by millions of dollars or find a way to generate millions of dollars in new revenue. What should happen?
A: First of all, I think we need to cut back the number of funds. I think what has happened under this administration is there's a number of funds that have been created and then the politicians say, "Oh, we can't touch those funds." That's not true. There's about 70 funds within our budget right now and I've asked to have each one of them identified to indicate which ones are receiving general fund money. For example, if we cut the economic development fund that was paying for Google parking, which is actually being increased under this proposed budget to over $4 million, then that's money coming from the general fund, and when money is taken from the general fund, it's taking money from our core services. It's taking money from police and fire, it's taking money from parks and rec, it's taking money from staff and downtown, so I think we're being misled and I don't like it.
I will be looking very closely at these funds. The affordable housing trust fund should be given to the Ann Arbor Housing Commission. The Housing Commission provides over 50 percent of our affordable housing, yet we have let it languish and deteriorate to standards that are unacceptable, yet council holds on to a big pot of money so that they can dole out to developers who keep making promises about affordable housing, yet not one project, not one affordable housing unit has been built in the last few years because of this. So they need to get out of the way and get that money back to where it can be used appropriately.
Q: You've taken some criticism for being unwilling to take a 3 percent pay cut. How do you justify asking the rank-and-file to take a 3 percent pay cut when you yourself are not willing?
A: First of all, I take what the local compensation committee presents. The mayor played politics with this. He knew full well that he had no authority to make council give 3 percent back. Again, it's all political grandstanding. For all those political grandstanding politicians talking about how they're going to give money back to the city, unfortunately I'm not in the same boat as them. If you remember, many of them spent their own money to get on the council and raised tens of thousands of dollars for their campaigns. Many of them have the money. I don't.
In addition to that, I haven't overspent. I voted against a budget in '07 that added three firemen to the department and also increased the administrative fee on our tax bill. I voted against that. They voted for it. And so I think before we start talking about 3 percent pay cuts, they should also talk about cutting spending. I don't know where the money is coming from to build the Fuller Road transit center that they're talking about, but again that's millions of dollars coming from the general fund. Cut those spending ways and then maybe we can talk about the fact that we don't need to ask all of our employees to take 3 percent pay cuts.
Q: You mentioned political grandstanding. In your opinion, how much does the fact this is an election year for the mayor and five other council members come into play with the discussions that are going on right now?
A: It's quite obvious that this is what's playing into this political grandstanding. And I think that's what sets me apart from all of them. I'm not about to play politics with the people and the money. Having been a public servant in the public sector, I know all too well what politicians can do. It's all about reputation. The political grandstanding just feeds into the community's discontent, that they're not focusing on the real issues. And so I think the fact that this is an election year, we're going to see some more hesitancy on the part of these politicians as we get close to the campaign season. I would say come around May and June, we'll start seeing council slow down a little bit and wait until they get through the August primary before they start ramrodding projects through again.
Q: In the last campaign season, you made some promises to work to restore credibility, trust and transparency to city government. How do you rank your progress so far?
A: I've brought forth the effort to have the monthly budget reports. The fact that that's now happening is a huge endeavor that I helped push. I will say what needs to be said no matter how hard it is to say it. I have to be a little bit more gentle I think because I don't want to feed the fringe elements of anger, because that's not productive and I do have to work with my colleagues. But it's about getting the information to the public and I think I do that pretty well.
Q: Making friends on the City Council doesn't seem to be your first priority. You at some times appear to be a thorn in some council members' sides. How do you feel your colleagues see you and how important is that to you?
A: There's a big difference between politics and friends. I think all of my colleagues on council are good people. I'm not going to question that. They're all nice people and after meetings we share some laughs. That's the only way we're going to get things done. The irony is I would say almost 80 to 90 percent of the votes are all unanimous. It's the spending the money on going in directions that some of us disagree on and that's actually very good when that comes through democracy. We need that healthy competition at the table when it comes to debating.
Q: Last question. What can the citizens of Ann Arbor expect out of you in the next year? Any tricks up your sleeve?
A: No tricks. I'll be working hard to make sure that we provide our core services, making sure that we do not venture into speculative development, making sure that we are not trying to provide services outside the city. For example, with the composting operation, there's a proposal to expand that operation to serve Waste Management's clients out of Wayne County. There's an example of a speculative business venture. I don't think that it's fair for my tax dollars to be subsidizing a compost operation that Waste Management then utilizes to service the communities in Wayne County, knowing that they can't make money at it. I think you'll see me again speaking clearly on the issues at the table of debates and making sure staff is providing the information necessary to make good sound decisions.
Ryan J. Stanton covers government for AnnArbor.com. Reach him at ryanstanton@annarbor.com or 734-623-2529.