Posted on
Mon, Dec 21, 2009 : 11:10 p.m.
Public art, municipal center sculpture earn favor of Ann Arbor City Council
By Ryan J. Stanton
Ann Arbor City Council members sided in favor of public art on two proposals before them tonight: the city's Percent for Art Program and a water-based sculpture slated to go outside the new municipal center downtown.
After voting to preserve the Percent for Art Program, the council turned to the first project to result from the public art fund. A proposal had called for reducing that fund from 1 percent to a half-percent for three years.
The council tonight awarded a $111,400 contract to Quinn Evans Architects for design and management services on the exterior component of a sculpture to be erected in front of city hall by German artist Herbert Dreiseitl.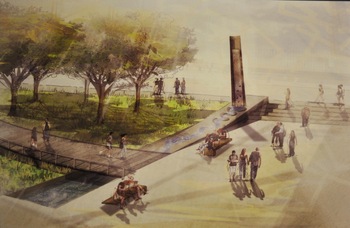 "Thank you for reaffirming art as a core value of our community," Margaret Parker, chairwoman of the city's Public Art Commission, told council members.
Council members voiced strong opinions that public art is not only one of Ann Arbor's trademarks, but is also a driver of economic development.
"It's kind of a defining element for Ann Arbor," said Council Member Stephen Rapundalo, D-2nd Ward.
Some feared a vote against public art would send a negative message to the broader community - and most agreed the little money that could be saved by cutting into art wouldn't go far enough in solving the city's budget problems to warrant it.
The art resolution came as a late addition to the agenda by Council Member Margie Teall, D-4th Ward. It drew a large crowd of supporters from the arts community who applauded the council for the decisions tonight.
With the council's approval, Quinn Evans Architects will proceed with the outdoor sculpture project design. Once that work is complete, bids will be received from the fabricators and installers, and authorization will be requested for project construction.
In July, Dreiseitl presented his preliminary design proposal for an outdoor sculpture with related indoor installations in the lobby areas of the municipal center.
The large outdoor sculpture with integrated glass pearls and storm water features will be located on the south plaza adjacent to a rain garden. In addition, a two-dimensional Huron River graphic is expected to be located on the custom blue-glass wall in the main lobby of the police-court addition. A third item, a two-dimensional plant graphic, is planned on the west wall of the new Larcom Building atrium lobby.
The total cost is estimated at $737,820, though the Public Art Commission has established a project budget of $750,000 - including the cost of the design, fabrication, and installation. Officials anticipate installation in May 2011.
The City Council approved a contract with Dreiseitl for $77,000 in March for the early conceptual design.
City officials said Quinn Evans Architects - along with the artist and city staff - have met to review design concepts for the art features, prepare cost estimates, and conduct interviews with art fabricators and installers. City officials said Dreiseitl proposed working with the local firms of Quinn Evans Architects and Conservation Design Forum -Â with Dreiseitl maintaining artistic control as the project consultant.
The Dreiseitl project is the first project to be funded by the city's Percent for Art Program, which has been accumulating money for three years. Under an ordinance approved by the City Council, 1 percent of the money spent on capital projects in the city is set aside for public art somewhere in the city.
At a first reading of the resolution to reduce the public art program to a half-percent earlier this month, a majority of council members favored the cuts. But several council members changed their minds tonight based on public input.
Because a voice vote was taken, no official vote tally was recorded by the city clerk. But before the vote, Council Members Stephen Kunselman, D-3rd Ward, and Sandi Smith, D-1st Ward, voiced their reasons for favoring the cuts.
Smith said it seemed prudent to pull back on art funding given the city's budget challenges. But she also saw it as a way to preserve the public art program for the next three years by not eliminating it entirely.
Kunselman said he looked at art as a non-essential item when the city's roads are crumbling, bridges are at risk of collapsing, park closures are being discussed and employees are being laid off. Kunselman also was the only one to vote against the resolution to move forward on the Dreiseitl sculpture.
Council Members Marcia Higgins, D-4th Ward, and Sabra Briere, D-1st Ward, were absent from tonight's meeting.
Ryan J. Stanton covers government for AnnArbor.com. Reach him at ryanstanton@annarbor.com or 734-623-2529.