Posted on
Sun, Jun 6, 2010 : 1:56 p.m.
11 people treated for injuries after tornado touches down in Dundee; storms knock out power across the region
By Tom Perkins
Residents and business owners in Dundee are still assessing the damage of an overnight tornado believed to be responsible for widespread damage, power outages and at least 11 injuries.
Joe Ross, an employee at Cabela's - roughly 25 miles south of Ann Arbor - said damage is significant in some spots.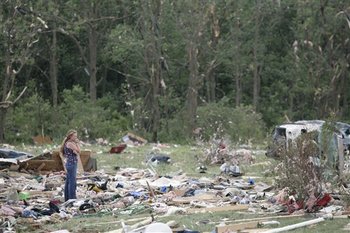 AP Photo/J.D. Pooley, Sentinel-Tribune
Cabela's lost part of its roof, and people staying in recreational vehicles in the store's parking lot had their vehicles blown around the property, Ross said. Several boats in the parking lot were damaged, and trees were uprooted.
"We received some minor damage, but a lot of other businesses have some pretty serious damage," he said.
Emergency officials have asked Cabela's to stay closed until further notice, Ross said. Employees from the store are helping clean the property, and contractors have been out to assess repair costs.
Throughout the Midwest, tornadoes and thunderstorms swept through Saturday night, destroying dozens of homes and upending school buses and police cars in one miles-long trail of destruction in Ohio. At least five people died, including a child, authorities said.
Washtenaw County wasn't hit as hard by the storms, which dumped an estimated 2 inches of rain in the Ann Arbor area. It was enough to cause flooding in some spots, and the annual Orphan Car Show in Ypsilanti was canceled today due to flooding in Riverside Park.
In Monroe County, roughly 18,000 people remained without power, according to Dan Smith, the county's public inquiry supervisor. Smith said no estimated time is available for when power will be restored.
Eleven people were treated for non-life threatening injuries, Smith said.
St. Joseph Mercy Hospital in Superior Township treated three or four people for minor injuries in its emergency room, and one person was taken to the hospital's emergency room in Saline, hospital spokeswoman Michele Szczypka said.
Smith said crews were still assessing property damage. A state of emergency was declared for the county mainly due to the severe weather in Dundee and Dundee Township.
"Because there has been so much damage over such a short period of time, it's going to take a while to have any kind of report," Smith said.
Smith said a roof was ripped of the Holiday Inn Express hotel attached to the Splash Universe water park. An estimated 500 guests were evacuated to a local shelter. Most have been able to return to their rooms, gather their belongings and leave.
Splash Universe representatives declined to comment today.
A spokesperson for the Fermi 2 nuclear power plant said an outer wall to the plant was damaged, and a line running into the facility was also damaged, prompting an automatic shutdown. The spokesperson said none of the damage presents any danger to the public.
Amos Dodson at the National Weather Service said a survey team was in Dundee this morning to determine whether a tornado touched down and how strong the winds were. He expected more information to be available later in the day.
In northwest Ohio, rescue officials were still searching through homes today and couldn't say whether anyone else was missing, Lake Township Fire Chief Todd Walters said. Police Chief Mark Hummer flew over the damaged area and said at least 50 homes were destroyed and another 50 severely damaged, as well as six commercial buildings. He estimated a 7-mile path of destruction about 100 yards wide.
The Associated Press contributed to this report.