Posted on
Tue, Jun 21, 2011 : 5:59 a.m.
$1.2 million for relocation of aging sewer lines along Fuller Road related to transit center project
By Ryan J. Stanton
The city of Ann Arbor is planning to embark on a project to relocate 825 feet of sanitary sewer lines at the site of a proposed transit center on Fuller Road.
A $1.2 million contract awarded to Hoffman Brothers Inc. Monday night for that work is related to the controversial Fuller Road Station project, city officials acknowledge. But there was little discussion of that as the Ann Arbor City Council voted 10-0 on the agreement.
"It is related," Mayor John Hieftje said in an interview after the meeting, though he said it's work that was needed anyway, with or without a transit center.
"It's work that has been on the charts for a while to do. With the hospital expansion and everything, it's putting a lot more pressure over there and you had an older pipe that needed to be moved."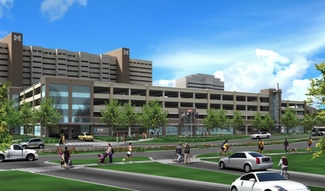 Hoffman Brothers is being hired to provide sanitary sewer, stormwater and water main construction services for the so-called
Northside Interceptor Sanitary Sewer Relocation Project
, located south of Fuller Road and east of the intersection at East Medical Center Drive.
The work includes the realignment and replacement of 825 feet of 60-inch sanitary sewer, a 30-year-old system that's part of trunkline that delivers sewage effluent directly to the city's Wastewater Treatment Plant on South Dixboro Road.
"It's piping that would have been underneath," Hieftje said of the proximity to the proposed Fuller Road Station. "You don't want to put it under a building."
David Dykman, the city's project manager, wrote in a memo the current alignment has limited access that presents difficulties with monitoring the structural integrity of the pipe.
"The new alignment will add an additional access manhole and improve these capabilities," he said. "Project work also includes construction of approximately 525 feet of 24-inch storm sewer. A portion of this work is required to replace an existing storm sewer that is above, and in conflict with, the proposed 60-inch sanitary sewer realignment."
The project also involves installing 925 feet of new 12-inch water main and associated bends, fittings and valves to eliminate a "dead end main" that services Fuller Pool.
"The effort will create a looped system that provides for redundancy and increases the reliability of water delivery to the pool by allowing for distribution from an alternate direction should a problem occur requiring shutdown of the primary source main," Dykman said.
The first phase of work is expected to be completed later this fall. The next and final phase to complete the loop is planned for 2013 with the resurfacing of Fuller Road.
Dykman said the sewer work will impact an existing soccer field on the south side of Fuller Road. As part of the project, and as a benefit to the city's park system, he said the field will be completely refurbished providing for improved drainage and turf conditions.
Construction is expected to begin in July and last five months, with restoration and maintenance of the soccer field continuing until September.
The project includes a contingency of $121,610, bringing the total cost up to $1.34 million. It's being funded by sewer, water and stormwater utility funds.
The amount of money the city has put into the Fuller Road Station project to date and could potentially spend in the future has been the subject of debate in recent weeks. Council Member Mike Anglin, D-5th Ward, said earlier this month the city had put about $1 million into the project so far and could potentially spend millions more in the near future.
Ryan J. Stanton covers government and politics for AnnArbor.com. Reach him at ryanstanton@annarbor.com or 734-623-2529. You also can follow him on Twitter or subscribe to AnnArbor.com's e-mail newsletters.