Posted on
Mon, Sep 2, 2013 : 5:59 a.m.
$1.3M reconstruction of Forest Avenue in downtown Ann Arbor to start Tuesday
By Ryan J. Stanton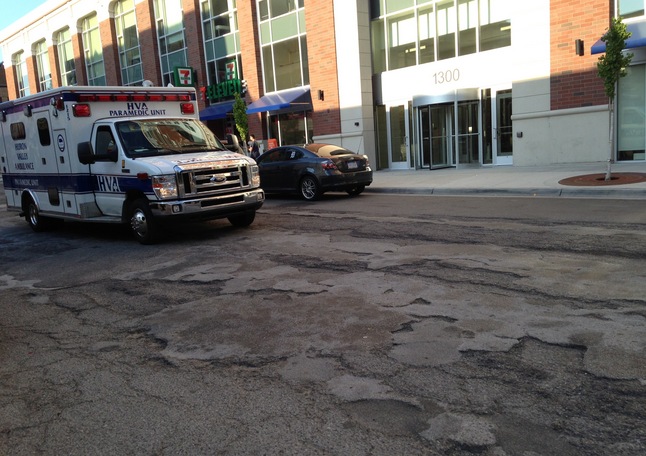 Ryan J. Stanton | AnnArbor.com
South Forest Avenue
— possibly the most tattered street in all of downtown
Ann Arbor
— is about to get a major facelift, and detours will be in effect starting Tuesday.
The city has announced a temporary traffic control plan that runs through Oct. 31, during which time Forest Avenue will be reconstructed between South University Avenue and Hill Street. The road will be closed to through traffic along the two-block stretch.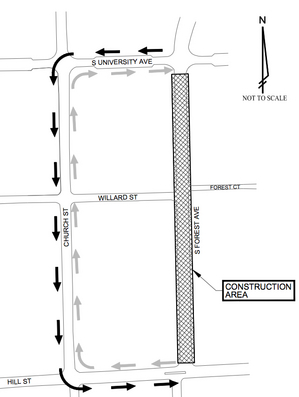 City of Ann Arbor
The city is purposefully waiting until after the University of Michigan's student move-in before starting the two-month project in front of the
Landmark student high-rise.
Maggie Ladd, executive director of the South University Area Association, said the road has been in bad shape for years and her group has had to ask the city to patch potholes regularly.
"It's been a horrible mess for a long time, so we're really glad it's going to get taken care of finally," she said.
In addition to fresh pavement, underground utility work is planned along Forest Avenue as part of the nearly $1.3-million project.
That includes replacement of the existing 6-inch water main with 600-plus feet of new 12-inch ductile iron water main along Forest Avenue from Hill Street to Willard Street.
Nick Hutchinson, the city's interim project management unit manager, said the water main on Forest Avenue is in poor condition and undersized.
The work being done also includes installation of a stormwater management system, replacement of curbs and gutters, curb ramps and some sidewalks.
The new stormwater management system will allow rainwater to collect in a stone reservoir located under the street surface and infiltrate back into the ground, thereby removing flow from the city's storm sewer system, which can become overwhelmed during storms.
Beginning on Tuesday, northbound traffic on Forest Avenue will be directed west on Hill Street, north on Church Street, and east on South University Avenue.
Southbound traffic on Forest Avenue will be directed west on South University Avenue, south on Church Street, and east on Hill Street.
Access to driveways will be maintained during the majority of the project. Pedestrian traffic on Forest Avenue will be maintained at all times.
Art Low, manager of Republic Parking, said public access to the Forest Avenue parking garage will be maintained during the project.
"We're going to make it work," he said. "The city is going to work with us. We've got restrictions as far as directional traffic, but we're going to be open for business one way or another."
Ryan J. Stanton | AnnArbor.com
Republic Parking manages the city's parking garages for the Downtown Development Authority. Low said there will be signs posted noting Forest Avenue is open to local traffic.
If they have to put employees out to direct people, they'll do that, Low said, but he's hoping the signs will let people know they can still park in the Forest Avenue garage.
The City Council voted in July to award a $965,990 construction contract to the E.T. MacKenzie Co. for the Forest Avenue Improvements Project.
The total cost of the project is estimated at $1,257,000, which includes $78,063 in contributions from the developers of the nearby Landmark and Zaragon Place student high-rises.
Other funding sources include $543,937 from the city's street resurfacing millage, $185,000 from the city's water fund, and $450,000 from the city's stormwater fund.
The stormwater portion of the project will be repaid as a loan to a state revolving fund. The city will receive 50 percent loan forgiveness on the project for water quality improvements.
In addition to the work on the street, renovations and improvements are planned for the Forest Avenue Plaza adjacent to the Forest Avenue parking structure. Ryan J. Stanton covers government and politics for AnnArbor.com. Reach him at ryanstanton@annarbor.com or 734-623-2529. You also can follow him on Twitter or subscribe to AnnArbor.com's email newsletters.