Posted on
Wed, Dec 5, 2012 : 5:58 a.m.
2012 Rockin' for the Hungry Food Gatherers food drive donation tracking
By AnnArbor.com Staff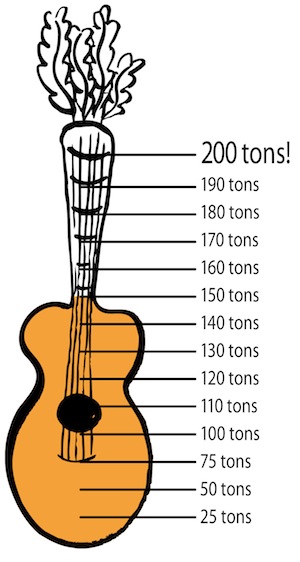 FINAL COLLECTION TOTAL: 150 Tons (Dec. 10, 10:30 a.m.)
With a goal of 200 tons, Food Gatherers volunteers will be collecting food donations outside of the Kroger at 400 S. Maple Road through Dec. 9.
You can track the progress of Washtenaw County's largest food drive the entire time on AnnArbor.com. Just watch the "carrot barometer" to see how close Food Gatherers is to its goal.
As part of the event, Ann Arbor's 107one will be conducting its live on-location broadcast throughout the week at the following times:
Dec. 5 to 8
6 to 10 a.m. — Martin Bandyke
10 to 3 p.m. — John Bommarito
3 to 7 p.m. — Kelly Brown
Dec. 9
11 a.m. to 1 p.m. — John Bommarito
12 to 4 p.m. — 107one Staff
Can't make it to the store? You also can make a financial donation at any of the other Washtenaw County Kroger locations when you check out at the register or on the Food Gatherers website.

View Rockin' For the Hungry 2012 in a larger map
Donation Updates
Wednesday 12:00pm
107one's John Bommarito and Food Gatherer's volunteers are doing their best to keep warm while freezin' for a reason today. There is also a
dollar for dollar donation match
being offered to those who make Rockin' gifts of $100 and up from long-time food gatherers volunteer, Pat Wilinski in memory of her late husband Al.
Wednesday 3:00 p.m. 5-tons of food donation have been reported.
Wednesday 5:00 p.m. A late afternoon surge of donations has brought the current total up to 16-tons.
Thursday 8:30 a.m. The morning tally from donations over the evening has doubled the current tally to 32 tons. Also, Pat Wilinski's generous match has been met within exactly 24 hours!
Thursday 1:15 p.m. Boosted by two major late-morning gifts of $1,000 and $2,500 the total is now up to 41 tons.
Thursday 5:00 p.m. The 50 ton mark has been hit.
Friday 4:30 p.m. With the help of an hour long donation match by O&W by Incorporated of Ypsilanti and Enspire Dental of Ann Arbor the total is current total is now at 77 tons.
Friday 5:30 p.m. Significant donations from out-of-town visitors have helped boost the total up to 81 tons.
Saturday 3:30 p.m. The total has topped 100 tons! There's one more day to go in the final push toward the 200-ton goal.
Sunday 10 a.m. 86 tons to go. Story and photo gallery from AnnArbor.com: Food Gatherers looking for big final day to meet 2012 Rockin' For The Hungry donation goal
Monday 10:30 a.m. The final tally for the drive is 150 tons. Donations are till being accepted as Food Gatherers aims to hit their 200 ton goal by year-end to help those in need in the first quarter of 2013.