Posted on
Wed, Dec 5, 2012 : 2:58 p.m.
Ann Arbor's largest annual food drive kicks off with donation match from Food Gatherers volunteer
By Kyle Mattson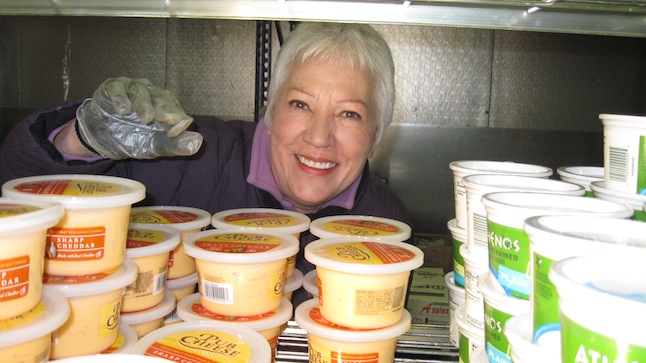 When we think of the holidays, it is the memories of gathering around the table enjoying good food and conversation with friends and family that many of look back upon.
It is for that reason that volunteer Pat Wilinski has dedicated countless hours of service and thousands of dollars to Food Gatherers over the years.
This year, Wilinski has taken her passion for bringing loved ones together through food a step further by offering, in memory of her late husband Al, a dollar for dollar match on all donations made more than $100 (up to $5,000) to the Ann Arbor-based food bank.
Since her first volunteer shift on January 20, 2003, Wilinski has increasingly been involved with the organization, now serving as one of the few volunteers working in the sub-zero confinement in the Food Gatherers freezer.
Although spending hours in the numbing cold of an industrial freezer may sound like the last place someone would want to be when volunteering their time, especially when you hate the cold, it actually makes the experience more valuable to Wilinski.
"If we're going to give it's got to be a little bit tough," she said, noting that for some it may be finances, others their time.
In 2004 Wilinski and her husband, Al, volunteered side by side cooking up chicken over the coals at the annual summer fundraiser Grillin'.
Later that year, when Al died, she established the "Big Al Fund" to direct all donations to the organization the couple had closely connected with.
She has continued this effort with annual donations in his memory, and this year decided that she wanted to encourage "everyone to think of their loved ones" by offering up the matching funds, one of the largest match offers the organization has seen to date, according to Food Gatherers Director of Development Mary Schlitt.
This year's Rockin' For The Hungry campaign kicked-off is at the Kroger located in the Westgate shopping plaza on the west side of Ann Arbor. Donors can bring food or cash to the drop-off.
You can track the donation totals as they are reported in here on AnnArbor.com.
Looking to get involved outside of making a cash or food donation? Volunteers are still needed to fill shifts throughout the drive, which ends Sunday.
For more information, call Food Gatherers at (734)761-2796 or visit the volunteer sign up webpage.