Posted on
Sat, Jun 18, 2011 : 6:11 p.m.
25 residents discuss future of former juvenile court property on Platt Road in Ann Arbor
By Lisa Carolin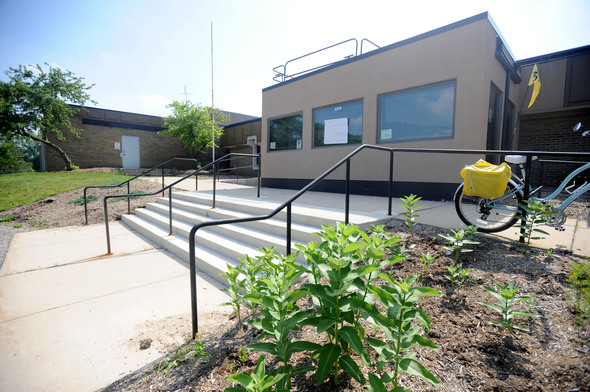 Angela J. Cesere | AnnArbor.com
Ideas for what to do with the 13.5 acre site that formerly housed Washtenaw County's Juvenile Court range from renovating the two buildings on the property to use as office space to demolishing the buildings and turning the property into green space for a bird center or a dog park.
Washtenaw County Commissioner Yousef Rabhi, D-Ann Arbor, led a community forum today at the vacant facility located at 2270 Platt Road, which was attended by 25 people.
"It's most feasible economically to not have these buildings any more," Rabhi told the group.
He added that it is likely the buildings will be demolished, though some in the audience asked for time to explore alternatives, like renovating the buildings. The concern is that the cost required to repair the buildings would exceed the cost of demolition.
"We're all concerned about maintaining our quality of life," said James D'Amour, who lives nearby.
Half a dozen people spoke up in support of putting a bird center on the property, which is located by County Farm Park. Among them was Carol Akerlot, who has lived in the area for 40 years.
"Once urban space is gone, you don't get it back," she said.
Jeannine Palms suggested using the space for growing food for the community. Brian Love asked to create a home for Ann Arbor's curlers on the property. Joanne Hastings, who runs Summers-Knoll K-8 school located close by, said that she'd like to see the property used to connect people of all ages to nature.
There are two buildings on the site- the 45,320 square-foot Juvenile Court Building and a smaller building. The Juvenile Court staff moved to the downtown county courthouse in May, and the juvenile detention portion was moved to Hogback Road eight years ago.
Ultimately the decision on what to do with the property will be made by the county's Board of Commissioners. Rabhi says that a few commissioners want to sell the property, one wants to build affordable housing on it, one wants to turn it into park land, but none of them wants to keep the two buildings.
Rabhi wants to create a community e-mail list to stay in contact with residents interested in staying updated about the property. He can be reached at 734-548-5159 or at rabhiy@ewashtenaw.org.