Posted on
Tue, Sep 27, 2011 : 4:14 p.m.
3 things you need to know about hybrid buses coming to U-M's campus
By Kellie Woodhouse
By summertime, seven of 42 buses at the University of Michigan will be hybrids, according to an announcement made Tuesday by U-M President Mary Sue Coleman.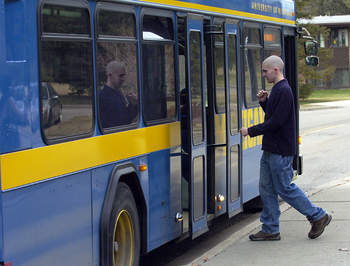 AnnArbor.com file photo
So, what does that change mean?
1) Better mileage.
The hybrid buses will get about five miles per gallon of diesel fuel, a 30 percent improvement over the conventional buses that now serve campus.
2) Lower emissions.
The new 40-foot hybrid-electric buses use a roof-mounted battery system to supplement their diesel engines, allowing for reduced emissions.
3) Stop and go traffic won't waste fuel.
When a hybrid bus' brakes are applied, a generator converts the energy released from deceleration into electrical energy, which is stored in a battery and used when the bus accelerates.


The university says its long-term goal is for all campus buses to be hybrids.
Hybrid buses have already been rolling around Ann Arbor since 2007. In their first two years, the Ann Arbor Transportation Authority's fleet of 20 hybrid buses conserved 100,000 gallons in fuel, for a monetary savings of $270,000.
Five years into its program, AATA has a total of 41 hybrid buses.
A spokeswoman for U-M said she did not know the exact cost of the hybrid buses the university is looking to purchase.
According to a 2009 report by Automobile Magazine, a new 40-foot hybrid bus costs $546,000, which is $245,000 more than a comparable conventional bus.
In addition to the new buses, the university purchased an additional 30 hybrid sedans. Those sedans are available to U-M staff and students for university-related travel. They were partially subsidized by the federal government.
U-M operates one of the largest alternative energy vehicle fleets among universities in the United States, with 545 vehicles running on E-85 fuel, 96 vehicles using bio-diesel, 29 hybrid sedans and 15 all-electric vehicles. Renewable energy sources comprise 16 percent of the total transportation at U-M, according to a news release.
Kellie Woodhouse covers higher education for AnnArbor.com. Reach her at kelliewoodhouse@annarbor.com or 734-623-4602 and follow her on twitter.