Ann Arbor Transportation Authority receives federal funding for 10 new hybrid buses
Posted on Wed, Oct 27, 2010 : 7:42 p.m.
The Ann Arbor Transportation Authority plans to add 10 new hybrid buses, thanks to $1.7 million in federal funding for the purchase, Congressman John Dingell announced today.
The grant comes from the Clean Fuels Bus and Bus Facilities program through the federal Department of Transportation.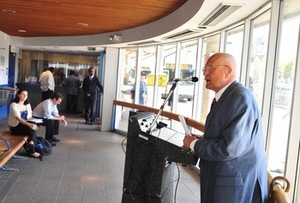 The 10 new buses will bring the fleet of hybrids to 41 total. In the first two years of operating hybrid buses, the AATA saved more than 100,000 gallons of fuel and about $270,000 in fuel costs, according to a press release.
"The citizens and merchants of the Ann Arbor area rely on TheRide to bring the community together, and demand for TheRide continues to increase," Dingell said. "The Ann Arbor area is committed to protecting the air we breathe and the environment we live in. These buses will help TheRide provide improved and energy-efficient service."
News of the hybrid buses is the latest in a series of funding announcements in the Ann Arbor area from Dingell this month. He also has announced grants for more than $1 million in federal investments for improvements at the Blake Transit Center, $13.9 million for reconstruction of the East Stadium bridges and $150 million to develop a high-speed rail corridor between Kalamazoo and Dearborn that would run through Ann Arbor.