Posted on
Thu, Jul 15, 2010 : 6:04 a.m.
3 Washtenaw County school districts agree to consolidate busing operations for the fall
By David Jesse
Only three of the 10 traditional school districts in Washtenaw County have signed on to consolidate their busing operations for the upcoming school year.
The Washtenaw Intermediate School District's school board officially approved contracts with the Ann Arbor, Willow Run and Ypsilanti school district earlier this week, the WISD announced Wednesday.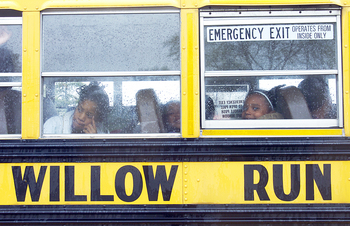 File photo
WISD officials have said most bus routes will remain the same for the next school year. The one area that might see changes in the fall is special education bus routes.
All 10 of the districts will pool their resources to buy fuel, bus parts and supplies, the WISD news release said.
"Together we developed a transportation design that is safe, cost-effective, and efficient," WISD Superintendent William Miller said in the release. "We look forward to working with Ann Arbor, Willow Run and Ypsilanti and remain open to fully implementing the transportation design for other districts if and when they are ready to participate.
"In the meantime, we'll continue to explore new ways to share services so that we can direct even more resources to the classroom."
Officials have said a consolidated system will likely save the districts between 18 percent and 25 percent of their transportation costs.
Most of the savings in the first year will come through lower employee costs. All the transportation workers, including bus drivers, will be laid off in each of the three districts. They can reapply for a job with the WISD, but aren't promised positions.
The districts are making the moves because of tight budget times, individual school boards have said. Other districts discussed joining the WISD system, but ultimately didn't sign on for the next school year.
Ann Arbor was projecting a $20 million budget shortfall for this school year and made a series of other cuts to come up with the savings. Both Ypsilanti and Willow Run are operating with budget deficits and are under state-mandated plans to get back in the black.
LaTisha Colt, who has two sons in the Willow Run school district, said she likes the move.
"They don't have any money," she said. "They've got to save it wherever they can and at least this means they're not cutting as many teachers."
The WISD school board also authorized its superintendent to hire a director of transportation services. The WISD is currently accepting applications for transportation personnel, including bus drivers and aides.
David Jesse covers K-12 education for AnnArbor.com. He can be reached at davidjesse@annarbor.com or at 734-623-2534.