Posted on
Wed, Mar 6, 2013 : 2:48 p.m.
$3M Baker Commons project start of comprehensive plan to redevelop Ann Arbor's public housing
By Ryan J. Stanton
The Ann Arbor Housing Commission is getting started on a comprehensive plan to redevelop all of the city's public housing properties, starting with Baker Commons.
As that plan moves ahead, the commission is pondering a fundamental change in the way it operates, fully converting the city's public housing to a project-based voucher funding model.
For now, the Downtown Development Authority on Wednesday agreed to grant $300,000 from its housing fund for the upcoming improvements to Baker Commons, a low-income public housing facility managed by the city's Housing Commission at Packard and Main.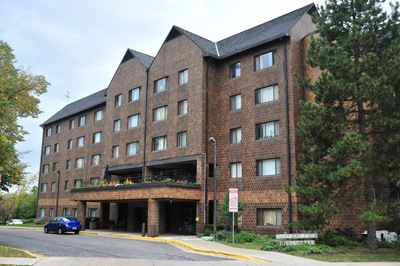 Ryan J. Stanton | AnnArbor.com
The latest grant follows a
$260,000 grant the DDA approved five months ago
for a new steel roof and energy efficiency upgrades at the 64-unit complex catering to elderly and disabled tenants.
Jennifer Hall, the Housing Commission's director, made a case for the new grant in a written proposal to the DDA, revealing the work at Baker Commons is the start of a bigger plan.
The total cost of redeveloping all Housing Commission properties is estimated at more than $25 million, while the reinvestment in Baker Commons is expected to be about $3 million.
The goal of the redevelopment process, starting with Baker Commons, is to help the Housing Commission transition to a project-based voucher funding model, which Hall believes will provide more stable funding and access to additional sources of revenues to address repairs.
In addition to funding from the DDA, the Housing Commission is requesting $500,000 from the city of Ann Arbor for the renovations at Baker Commons. The balance of the funding would come from low-income housing tax credits, grants and loans, according to Hall's written proposal.
The initial scope of work includes driveway and sidewalk replacement and repair, energy efficient lighting for the interior and exterior, insulation and air sealing, replacing windows, adding a second entrance, replacing doors, fixing or replacing all heating and cooling units, replacing generators, replacing an elevator, upgrading common area fixtures and furniture, landscaping, additional security cameras, and upgrading fixtures, appliances, flooring and cabinetry in units.
The bigger picture
The Housing Commission's consultant conducted an assessment in recent years that showed a need for more than $14.5 million in repairs — or $40,000 per unit — over 15 years.
If federal funding remained constant, Hall said, the commission would receive about $18,000 per unit throughout the next 15 years to maintain its properties, which isn't enough.
DDA board member Joan Lowenstein called the switch to a voucher funding model a "very complicated transition" that hopefully will work out for the Housing Commission.
She said Baker Commons' tenants are regular users of downtown and reinvestment in the building will add to the vitality of downtown and ensure it does not become a blighted building.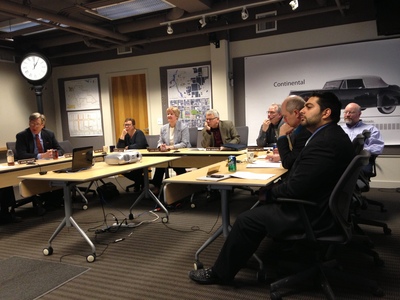 Ryan J. Stanton | AnnArbor.com
Mayor
John Hieftje
said there's some great work going on at the Housing Commission, and he thinks it's been turned around in the last few years.
"You have to understand what they're up against," he said. "The challenge that we all face is how do we keep public housing in good condition with this declining revenue stream."
The city's Housing Commission is the largest provider of rent and income-restricted affordable housing units in Ann Arbor and Washtenaw County.
It manages or administers 360 public housing units in the city limits, 1,333 vouchers and 155 veteran's vouchers, 34 units of "Shelter Plus Care Vouchers" for local nonprofits, 202 units of project-based rental assistance for Cranbrook Towers, and 20 units of project-based vouchers for Pear Street Apartments for local affordable housing provider Avalon Housing.
The commission is dependent on funding from Congress to the U.S. Department of Housing and Urban Development, but that revenue source has been declining.
The year 1976 was the watermark year for HUD, with the highest funding in its existence at $86.8 billion. It has decreased since then to $41.7 billion in 2012.
Hall said that has had a negative impact on the ability to take care of properties, which continue to deteriorate. She said there has been no funding for new public housing units since 1986 and HUD estimates a nationwide loss of 10,000 to 15,000 units each year.
But there has been a movement toward voucher programs. Hall said HUD now funds several voucher programs, including the Housing Choice Voucher, which enables tenants to take a voucher subsidy to a private landlord, so that no matter where the tenant lives, the tenant pays 30 percent of his or her income on rent and the private landlord receives a rent subsidy to cover the balance.
The Housing Commission estimates it receives about $300 a month less per unit in total rent for its public housing units than private landlords serving similar tenants with vouchers.
Hall said HUD has recognized the public housing program historically has been underfunded and has proposed a new program called the Rental Assistance Demonstration to convert public housing to project-based vouchers to provide a more stable source of rental subsidy.
The Housing Commission applied to HUD and was approved to convert 282 out of 360 of its units under the RAD program, with the intention of eventually converting all of them.
Hall said the commission has selected Norstar Development as the developer, Mitchell and Mouat as the architect, Recap Real Estate Advisors as the RAD consultant and Avalon Housing as the supportive housing consultant through a request for proposal process.
DDA board member John Mouat, an architect and partner with Mitchell and Mouat, abstained from Wednesday's vote because he's working on the project.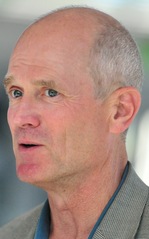 The team is in the process of analyzing all of the Housing Commission's public housing units to propose a redevelopment plan to HUD that includes a conversion of all 360 units.
City Council Member Stephen Kunselman, D-3rd Ward, has objected to the plan, suggesting it's really about privatizing public housing in Ann Arbor.
Hieftje dismissed Kunselman's remarks on Wednesday, saying "Council Member Kunselman says a lot of things and I'm not sure that he thinks them through."
Hieftje said nothing is final yet and City Council approval will be required before the transition to a voucher model happens.
"I think before we go any further on it, there's going to be more study of it, and the city attorneys are working on it," he said. "Council members and myself need to be better educated about it. There's plenty of time to look at this and make sure we do the right thing."
Hall said the commission cannot maintain its properties without either an increase in funding from HUD, an annual contribution from the city of about $500,000 a year, or converting the units to project-based vouchers and accessing private and public funding to redevelop the properties.
"We'd get additional new vouchers from HUD, we'd be able to access private capital instead of using public HUD funds, so we'd be able to access things like low-income housing tax credits, FHA loans — all different kinds of funding," Hall told the City Council when presenting the idea at a meeting back in October, portraying it as an opportunity to leverage new revenue.
Hall said some tenants could be eligible to get vouchers one or two years after the conversion, and they could take those vouches and go into the private sector and use it on private housing. She said she had a meeting with public housing tenants and many are excited about that.
Ryan J. Stanton covers government and politics for AnnArbor.com. Reach him at ryanstanton@annarbor.com or 734-623-2529. You also can follow him on Twitter or subscribe to AnnArbor.com's email newsletters.