Posted on
Wed, Dec 7, 2011 : 12:07 p.m.
3rd rabid skunk of 2011 found on west side of Ann Arbor
By Paula Gardner
Health officials received confirmation this week that a skunk found on Ann Arbor's west side in late November had rabies.
That incident makes a total of three rabid skunks found in Ann Arbor so far this year. By comparison, an average of five can be found statewide in a typical year.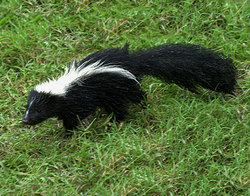 From the Grand Rapids Press
"Three rabid sunks within a small vicinity is a concern and a reason for caution," said Tanya Hilgendorf, executive director of the Humane Society of Huron Valley.
"Rabies is very serious," she said. "It's always a fatal disease unless you're vaccinated or get immediate treatment."
The latest skunk was reported on Winstead, where a property owner spotted the dead animal.
The Humane Society picked up the animal. It doesn't routinely test for rabies, Hilgendorf said.
"We decided to do it because of how sick it looked," she said.
The Humane Society — which is in the midst of renewing its contract with Washtenaw County for animal control services, which likely will accompany a funding cut — now plans to test more wildlife for the disease.
"Usually county will only pay for testing if there's been direct exposure, but we're going to start testing more," Hilgendorf said.
The latest positive rabies test follows two incidents in September that each resulted in positive rabies tests on skunks.
The first was on Arborview near Miller Nature Area. The second was also on the city's west side.
So far in 2011, three bats also have been found with rabies, according to the Washtenaw County Health Department.
Calls for injured wildlife will drop off during winter, Hilgendorf said.
Still, she urges people on the west side of Ann Arbor to make sure their pets are vaccinated. In one of the rabies cases, a dog that had up-to-date shots tangled with an aggressive skunk. In the most recent incident, Hilgendorf said, a dog could have had contact with the carcass.
"People will stay away from skunks because they don't want to get sprayed," Hilgendorf said.
Dogs, however, will put themselves at risk - and they can spread the disease if they're not vaccinated.
Fatalities from rabies are rare, but the sheer number of incidents within a few miles makes the skunk situation a concern.
"We want to make sure people on the west side of Ann Arbor are aware and extra-cautious," Hilgendorf said.
See county health facts about rabies and a rabies fact sheet.