Posted on
Thu, Jul 11, 2013 : 5:56 a.m.
Grand goes on the attack against Kunselman at 3rd Ward candidate forum
By Ryan J. Stanton
Stephen Kunselman used the words dignity, respect and honor Wednesday night to describe how he's conducted himself on the Ann Arbor City Council for nearly six years.
"If re-elected, I will continue to work cooperatively and graciously with my colleagues with an emphasis on open and vigorous debate of all issues," he said.
But his political opponent, Julie Grand, painted a different picture of the third-term council member, suggesting his style is more combative than collaborative.
"My opponent has said that this city is at a political crossroads, and I completely agree," Grand said during a candidate forum hosted by the League of Women Voters at CTN studios.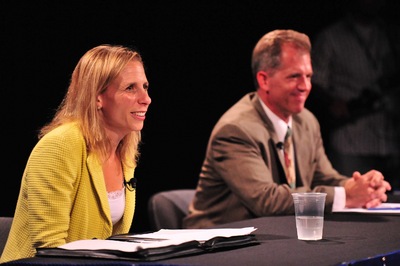 Ryan J. Stanton | AnnArbor.com
"Voters are being given a choice this election between a proven communicator who has exhibited thoughtful leadership," Grand said, referring to herself, "and an elected official who promotes an us-versus-them mentality that focuses on creating problems rather than solving them."
Grand, chairwoman of the city's Park Advisory Commission, is trying to unseat Kunselman, D-3rd Ward, in the Democratic primary on Aug. 6.
The two candidates were cordial throughout most of Wednesday's forum. Grand waited until her closing statement to level a series of criticisms at Kunselman.
"It's time for a change in city politics by electing someone who is fair, thoughtful and balanced, rather than re-electing a man who admitted that he doesn't come prepared to his own City Council meetings," Grand said, taking another shot at her opponent.
Kunselman said he does come to meetings prepared and Grand was misrepresenting a comment he made at an Ann Arbor Democratic Party forum.
As for the suggestion that he promotes an "us-versus-them" mentality, Kunselman pointed out Grand is a political ally of Mayor John Hieftje, who has lost some of his allies on council.
"I don't know about 'us versus them' — maybe it's about the fact that the powers that used to be have lost a lot of respect, have lost seats at the council table, and maybe it's their frustration and they're taking it out on me," he said after the forum. "But they only have themselves to blame."
Kunselman, who is pushing for heightened restrictions on the amount of tax dollars going to the Downtown Development Authority, has butted heads with the mayor and DDA board members on the issue. Grand said she considers herself a supporter of the DDA.
Even though the DDA is in line to collect roughly $4.5 million in downtown tax revenues this year, Grand said a lot of downtown tax revenues go back to the city and other entities.
"When the DDA is doing their job and bringing more development and supporting local businesses in the city, those tax contributions are going back out and not only supporting our downtown … but it also gives money to our neighborhoods to pay for roads, to pay for schools," she said.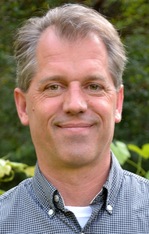 For example, she said, 13 years ago there was $4.5 million in the DDA district that was given to schools. In 2013, she said, it was $10.5 million.
Kunselman said he'll continue to press the DDA to show fiscal discipline. The DDA's recent decision to spend $200,000 on consultants to develop a streetscape plan for downtown — at the same time that the city is being asked to contribute $200,000-plus from its general fund for new streetlights on Main Street — illustrates "just how out of whack the DDA's fiscal priorities are," he said.
"I will continue to advocate for investment in our neighborhoods in order to stabilize property values," Kunselman said. "For too long our neighborhoods have been neglected while politicians and political appointees have been speculating on how to build big buildings downtown. It's time to focus on our neighborhoods and repair and maintain our aging infrastructure."
Kunselman cited among his accomplishments keeping city fire stations open, stopping transfers of restricted funds to the public art fund, adoption of a new city budget that added public safety staffing, and hiring a broker to try to sell the city-owned Y Lot downtown.
Asked about city-owned property in the downtown, Grand said the city shouldn't just sell properties to the highest bidder. She said it's important to have a long-term vision.
Grand said she'd proactively communicate with residents to come to informed and consensus-driven decisions.
Further criticizing Kunselman, Grand said she and her opponent have a fundamentally different idea of the level of constituent communication required of a council member.
"As a resident of the 3rd Ward, I deserve better — all of us in the 3rd Ward deserve better," she said, suggesting Kunselman doesn't communicate well with residents.
"As a constituent of my opponent, I have never received a proactive email, newsletter or knock on my door," she said. "You heard him tonight say 'go to your local papers' — that's outrageous. It is your job on City Council to help communicate what the issues are to your constituents."
Kunselman said any resident can contact him by phone or email and he'll always respond. Other than that, he said there's information on the city website and local news sites.
"What I would suggest is find a news source that you trust and go to it frequently," he said, mentioning different places where residents can get information. "I even have a website, and I keep it maintained to some degree, but I'm only making reference to other news organizations because they tend to cover things a lot better than I can, since I still have a full-time job."
Kunselman, a lifelong Ann Arborite and University of Michigan graduate, has been the energy conservation liaison for U-M since May 2004.
Grand, who has lived in Ann Arbor 15 years, is a lecturer in health policy studies at U-M Dearborn. She holds both a master's degree and Ph.D. in public health from U-M in Ann Arbor.
For the last six years, Grand has served on the city's Park Advisory Commission. She has been closely involved in the plans for improving the North Main-Huron River corridor, including the push for a greenway anchor park at 721 N. Main St. and a new riverfront park on the MichCon site.
"As chair of the commission, I've enjoyed solving problems and engaging the public," she said. "And I've been energized by the opportunity to directly improve the quality of life for all citizens of Ann Arbor through our 157 parks and natural areas."
Kunselman has a long track record of service, including past involvement on the Planning Commission, Environmental Commission and Park Advisory Commission. He now serves on the Labor Committee, Brownfield Committee, Taxicab Board, Cable Commission and Audit Committee.
The two candidates answered multiple questions on the topic of transportation Wednesday night, including one about the Ann Arbor Connector study that's looking at options for a high-capacity transit system in Ann Arbor —either light rail/streetcar or bus rapid transit.
"It certainly has a lot of positive elements, whether it's light rail or bus rapid transit, but I think we have to recognize that it is primarily driven to serve the University of Michigan campus," Kunselman said, adding he still has questions about how much it will cost and how it will be funded.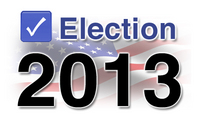 Grand said she's supportive of rail if the numbers make sense and if significant partnerships can be leveraged.
Both candidates said they support the expansion of the Ann Arbor Transportation Authority — now called the Ann Arbor Area Transportation Authority or A3TA — to include Ypsilanti.
They offered somewhat different responses when asked about possibilities for more proactive policing in Ann Arbor.
Kunselman said he supports the police department's position that it needs more funding to be proactive, but he said it's going to be a number of years before the city's budget stabilizes enough so it can bring back a number of police department employees.
Grand said it's important to note the city's crime rate is going down. She said she'd like to see more proactive policing in neighborhoods and downtown, but she's concerned the city isn't using the best metrics for determining the added value of hiring more police.
"If we go from 146 to 152 police officers, for example, how much safer does that make us feel as a community?" she said. "And how much safer does that actually make us?"
Ryan J. Stanton covers government and politics for AnnArbor.com. Reach him at ryanstanton@annarbor.com or 734-623-2529. You also can follow him on Twitter or subscribe to AnnArbor.com's email newsletters.