Power outage: DTE says 4,000 still waiting for repairs in Washtenaw County - and they're likely to happen Friday
Posted on Fri, Jul 6, 2012 : 4:54 p.m.
Related Story: Ann Arbor area businesses, schools and residents adjust to power outages
Most of the Washtenaw County residents who lost power after the storms early Thursday morning can now turn on their lights and air conditioning.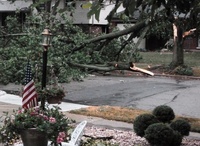 Lucy Ann Lance | From Facebook
About 4,000 Washtenaw county residents were still without power as of about 4 p.m. Friday, down from a high of 15,000 on Thursday.

According to the DTE outage map, the largest pockets of outages have been taken care of, and DTE will now be working to restore power to smaller area outages.

DTE Energy
spokesman
Alejandro Bodipo-Memba
said the company has restored power to all but 75,000 customers in Metro Detroit after 325,000 lost power during the storm.
"We have crews working 16 hour shifts and we have brought in people from Indiana, Pennsylvania, and New York to help us handle these outages," he said.
DTE expects to restore power to 90 percent of those affected by late Friday night, while the final customers will have to wait into the weekend.
Click here to see the most recent outage map from DTE.