Ann Arbor area businesses, schools and residents adjust to power outages
Posted on Fri, Jul 6, 2012 : 1:58 p.m.
Following the early Thursday thunderstorm that knocked out power for 15,000 DTE Energy customers in Washtenaw County, the restoration process is still under way for area businesses, schools and residents.
Melanie Maxwell I AnnArbor.com
The extreme temperatures are also affecting the Ann Arbor area. Today, it was announced all Ann Arbor Rec & Ed activities - including team sports - have been canceled for Friday and Saturday due to the extreme heat affecting the region.
As of 1:44 p.m., the temperature in Ann Arbor was 96 degrees. Forecasts say the real temperature could climb to 102.
Power was restored Friday to two Ann Arbor elementary schools, Lawton and Northside.
Abbot Elementary School, Balas Administration Building and the Ann Arbor Preschool and Family Center remain without power.
The district did not have any activities or programs going on at Abbot, Lawton or Northside, said district spokeswoman Liz Margolis, but preschool classes were canceled Thursday. There are no preschool classes on Fridays. Margolis said about 100 children participate in the preschool program in the summer.
Margolis said the school's alarm system notified the Ann Arbor Public Schools around 7 a.m. when the preschool's power went out.
A staff member arrived at the building about 30 minutes later and it was decided the program should be canceled due to the power outage.
Margolis said a notification was placed on the district's website. AAPS also still sent the buses around as usual to inform parents and their children who may have been waiting at the bus stops, she said.
Balas has been receiving power via generator. Day-to-day operations have been largely unaffected, Margolis said.
Staff turned down the air conditioning Friday and kept minimal lights on to focus on keeping the district's mainframe and technology infrastructure cool and fully powered, Margolis said.
DTE Energy told school officials that power to Balas, Abbot and the preschool should be restored by late Friday afternoon or evening. Area businesses are still being heavily affected by power outages.
The Ann Arbor PTO Thrift Shop has been closed and without power since Thursday. Ann Farnham, director of promotions and community relations for the thrift shop, said the outage will have a negative impact on revenue, adding the shop averages between $2,400 and $2,500 in sales per day.
"We run a pretty tight ship and are a really thrifty operation by every definition," Farnham said. "So on days like this when we can't take donations and can't make sales, it impacts us dramatically."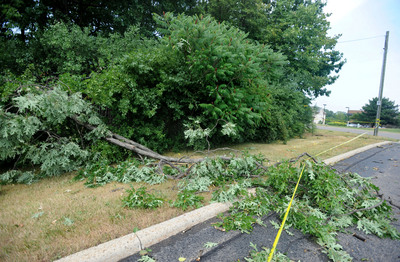 Angela Cesere | AnnArbor.com
On Thursday, the PTO Thrift Shop was forced to cancel all of its furniture pickups and deliveries. It typically schedules seven to eight during the weekdays. Farnham said the shop's manager called people from offsite, since the phones at the shop are down, to cancel the appointments.
Four of Friday's deliveries will happen as scheduled, although two of the scheduled pick-ups/deliveries were canceled because the clients also do not have power and are not at their homes, Farnham said. Farnham is monitoring the PTO Thrift Shop's email from her home. "We are pulling together as a team to keep things flowing as smoothly as we can during this break in our sales/donations/fundraising operations," Farnham said. "This is an inconvenience to our community, so we appreciate their patience. We will continue to do our best with what we have, hoping that power resumes for the weekend."
Brian Barch, an employee at the RoosRoast Coffee located at 1155 Rosewood St. Suite B, said the coffee shop lost power Thursday morning.
Barch said Thursday that store owner John Roos realized the power was out when the clock on the wall was stuck at 4:50 a.m.
Barch said Roos immediately posted a sign saying the business would be temporarily closed and he left to go buy a generator. Roos reopened the shop that morning at 10 a.m.
Barch said although the power loss is a great inconvenience, the shop has been able to conduct business as usual.
"The very essentials are taking place and since we have a mobile espresso cart, we're able to serve customers," Barch said.
In addition to the cart, Barch said they still are able to use the store's grinders and roaster.
"The most inconvenient thing is we're not able to access our computers," Barch said.
Even though computers are down, Barch said customers can still pay for their orders with credit cards because they use the "Square Program" which allows them to process payments through an iPhone.
Barch said customers are pretty surprised to find out that RoosRoast is still open amid the outages.
"They're still incredibly happy they can still get their coffee," Barch said. "A lot of our customers are folks that work in the area."
Many of the other businesses along South Industrial are closed. Small and large businesses have all been affected.
The Kroger located at 1919 S. Industrial lost power and is now operating on a generator.
Patrick Paterno, spokesman for Comcast, said it was standard practice to place generators in neighborhoods during power outages to serve customers that have personal generators at home to run some of their basic appliances.
However, with utility work going on "around-the-clock," Paterno said there may be disruptions in Comcast service to areas that have power. He said brownouts are possible and out of Comcast's control. Comcast crews are only able to repair lines once the electric utility has cleared the area, Paterno said. "We can't go into a designated area until we're allowed to," he said.
Paterno was unable to provide specific areas with Comcast outages.
Danielle Arndt and Amy Biolchini contributed to this report.
Katrease Stafford covers the city of Ypsilanti for AnnArbor.com. Reach her at KatreaseStafford@annarbor.com. You can also follow her on Twitter.