Posted on
Mon, Jun 24, 2013 : 5:53 a.m.
5 things on the horizon that could make Ann Arbor even more bicycle-friendly
By Ryan J. Stanton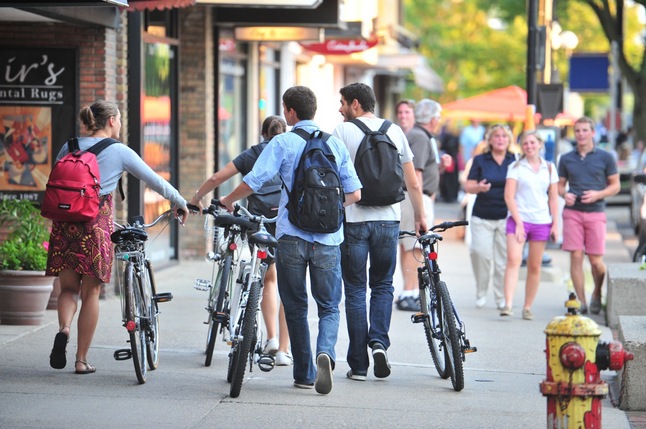 Ryan J. Stanton | AnnArbor.com
Ann Arbor
is once again applying for the
League of American Bicyclists'
Bicycle-Friendly Community Award, and this time it's going for the gold.
The city last applied for the award in 2009, when it was awarded silver-level honors. Strides have been made since then toward becoming more bicycle-friendly.
In order to make the city's application as complete as possible, city officials are asking for input from cyclists and other interested community members from 6-8 p.m. Tuesday.
The meeting takes place on the second floor of city hall, 301 E. Huron St. It's a chance to share information on the bicycling culture and infrastructure in Ann Arbor.
Community members unable to attend are invited to complete a brief online survey. The survey closes July 9. Take the survey.
Here's a quick look at five efforts under way that could be significant for the bicycling community in Ann Arbor.
1. Bike-sharing program
The Ann Arbor-based Clean Energy Coalition is working with the city, the Downtown Development Authority and the University of Michigan to launch a bike-sharing program. It's expected to be up and running with 14 bike share stations and roughly 125 bicycles by the spring of 2014. Stations will be located in and around downtown and the U-M campus.
Anyone interested will be able to join as either a daily, weekly or annual member for a set fee, with easy access to rentable bicycles by swiping either a membership card or credit card at the kiosk. After riding to your destination, you'll be able to return the bicycle at any station in the network.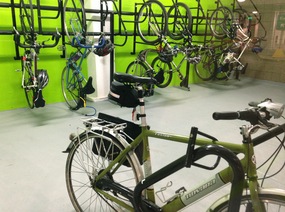 Ryan J. Stanton | AnnArbor.com
2. Bike houses
The DDA and the getDowntown Program collaborated last month on the opening of the city's first "bike house" inside the Maynard parking garage. The 35-space secured storage area allows bicycle commuters to safely store their wheels while they're at work downtown.
An annual pass for the bike house is $75. Mary Sell of the getDowntown Program said last week there were only seven spots left available.
Given the popularity of the bike house (20 spots filled up in the first week alone), Sell says there are discussions about providing additional bicycle commuting resources downtown — and another bike house is definitely a possibility. "More than anything, we want to make sure to locate these facilities in areas where they will be accessible and utilized, so that is a discussion that we are continuing to have with our partners," Sell said, adding: "Stay tuned!"
New bicycle "fix-it" stations also were installed recently at the Maynard bike house and outside of city hall for cyclists who need to give their wheels a quick tune-up.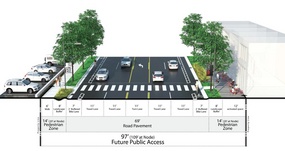 SmithGroupJJR | Parsons Brinckerhoff
3. Buffered bike lanes on Washtenaw Avenue
As part of the ReImagine Washtenaw initiative, local officials are working on plans for adding continuous buffered bike lanes (as well as dedicated transit lanes) along Washtenaw Avenue, where there already have been some notable non-motorized path improvements made.
It might take a while before the idea of bike lanes goes from concept to reality, but it has the potential to make bicycle commuting between Ann Arbor and Ypsilanti a lot easier than it is today.
One scenario shows bike lanes on both sides of the road separated from traffic by a two-foot painted buffer, though no physical barrier. Another scenario shows bike lanes tucked between lanes of automobile traffic and dedicate transit lanes, without a buffer between cyclists and buses.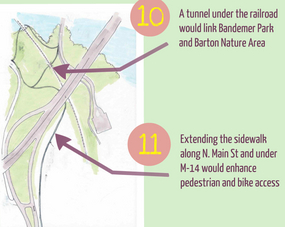 Courtesy image
4. North Main corridor upgrades
The city's North Main task force has been hard at work for the past year crafting plans for transforming one of Ann Arbor's major gateway corridors into a vibrant and unique destination that's both safe and accessible for pedestrians and bicyclists.
The task force has expressed interest in widening the Main Street right-of-way and improving and extending the sidewalk on the east side of North Main from Depot Street to and under M-14 to enhance pedestrian and bike access to West Huron River Drive.
There also are talks of a tunnel under the railroad tracks to safely link Bandemer Park and the Barton Nature Area, a pedestrian bridge over Main Street, and widening the Border-to-Border Trail. The task force is planning to submit its final recommendations to the City Council by the end of July.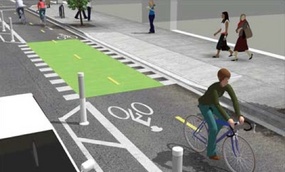 City of Ann Arbor
5. Non-motorized plan update
Ann Arbor officials have released a draft update of the city's Non-Motorized Transportation Plan after a year and a half spent taking a fresh look at all things walking and biking. The 62-page report is the first update to the plan since 2007 and includes new policy recommendations on everything from bike lanes to crosswalks to new sidewalk funding.
The report highlights the city's progress since 2007 on becoming a friendlier place for bicyclists and pedestrians, noting 35.6 miles of bike lanes have been added (up to 70.4 miles now) and 5.7 miles of shared-use arrows have been added to encourage motorists to share the road with bicyclists.
New recommendations include coloring some bike lanes green to help make clear that cyclists have a place in the road, and creating special "bike boulevards" and "cycle tracks."
Bike boulevards are created by deploying a system of signs, pavement markings, low speed limits and intersection treatments facilitating an environment that welcomes cyclists and discourages automobile through traffic. Similarly, a cycle track is a buffered bike lane that uses pavement markings or physical separators or barriers to protect the bike lane from traffic.
Download a PDF of the non-motorized plan update. Public comments on the plan are being accepted now and can be sent to Transportation Program Manager Eli Cooper at ECooper@a2gov.org.
Ryan J. Stanton covers government and politics for AnnArbor.com. Reach him at ryanstanton@annarbor.com or 734-623-2529. You also can follow him on Twitter or subscribe to AnnArbor.com's email newsletters.