Posted on
Mon, Jul 15, 2013 : 5:59 a.m.
4 things to know about the 2 AAPS superintendent finalists
By Kellie Woodhouse
It might be less than a week before the next superintendent of Ann Arbor public schools is named, or at least a finalist is offered the job.
Ann Arbor's Board of Education has chosen a New Jersey district superintendent and an assistant superintendent for instruction, curriculum, and student services in Colorado Springs as finalists for the top leadership position in the district.
Jeanice Kerr Swift, of Colorado, and Brian Osborne, of New Jersey, will introduce themselves to the public during meetings in Skyline High School at 7 p.m. Tuesday and Wednesday, respectively.
During initial interviews Monday, July 8, and deliberation Tuesday, July 9, the board seemed impressed by Osborne's budget acumen and by Swift's communication skills.
The board is planning to make its final decision on who will replace Patricia Green as Ann Arbor superintendent on Friday, July 19.
Here's four things to note about the two candidates. The information provides a snapshot of the two finalists before they visit Ann Arbor for their final interviews. AnnArbor.com has included a copies of their cover letter, resume and references.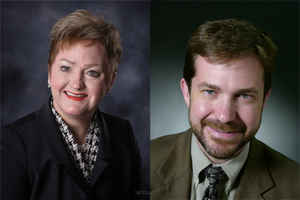 Courtesy
Jeanice Kerr Swift
Resume and references: Swift_Resume.pdf
1) What's her district like?
Colorado Springs School District No. 11 is the seventh-largest school district in the state of Colorado. The district teaches 28,500 students and directly employs 3,900 people, according to district figures. Comparatively, Ann Arbor has 16,600 and roughly 3,000 employees. In 2012 the district had 39 elementary schools, nine middle schools and 11 high schools, with four of the schools offering alternative education models. There are 21 students for every teacher. According to district documents, the district set a $367 million budget for 2012-13.
2) What's a challenge she faced?
Swift is experienced in consolidating schools, something Ann Arbor might experience in the near future. Swift's district has closed 12 school buildings since 2009, according to a Colorado Springs Gazette article from June.
During her interview, Swift said prior to consolidating schools her district held 12 meetings to collect ideas. Then after the district created a draft plan, it held another roughly dozen meetings to get community feedback.
"What's important is that we remember that we are all in this together. That sounds like a platitude but it's important to return to that," Swift said during her interview. Swift said that before a district closes a school it needs to have a plan in place for leasing or selling it.
3) Notable endeavor:
Swift has a strong background in curriculum. In her role she is responsible for maintaining and implementing a 'Playbook' of suggested instructional practices for teachers in her district. The document presents teachers with proven responses to scenarios they'll likely encounter, such as a student reaching subject proficiency faster than expected.
You can check out the playbook here: Playbook.pdf and Playbook2013.pdf
In the curriculum vein, Swift's district recently received an award from MIND Research Institute for improving elementary math achievement using a fictional character teaching tool.
4) What did her reference say?
"She is a master at building cultures, she is great at getting the most out of teams, she can be a bulldog to fight for approaches and programs to make sure our children are served and education. Jeanice is exactly the kind of person you want and need to lead your school district. She is a person that works well with staff, administration and parents. What sets her apart is her ability to use all these stakeholders to help her base her final recommendation on doing what is best for students." -Michael A. Poore, superintendent of Bentonville Public Schools in Arizona.
Brian Osborne
Resume and references: Osborne_Resume.pdf
1) What's his district like?
The South Orange and Maplewood School District in New Jersey is smaller than Ann Arbor. It's responsible for the education of 6,700 students and includes six elementary schools, two middle schools and one high school. For perspective, AAPS includes 16,600 students. The district had a $109 million operating budget in 2012-13. The district's high school is ranked 36th in the state in U.S. News and World Report's ranking. According to that ranking, minority enrollment in the high school is 62 percent and 43 percent of students take at least one AP test. District figures indicate there's one faculty member for every 10.6 students.
2) What's an accomplishment?
Osborne lobbied the New Jersey legislature for tenure reform in 2012. A 1909 New Jersey tenure law put a high burden of proof on districts firing teachers, making it difficult for districts to dismiss ineffective teachers.
"It means people get away with too much," he told NJ.com in 2010.
During his interview before the Ann Arbor Board of Education, Osborne emphasized the importance of officials using their role to lobby lawmakers.
"I do think it's important that you as elected officials from Ann Arbor, and your superintendent, that we've very vocal," he said.
3) What's a challenge in his current role?
It appears that Osborne has been heavily focused on reducing the achievement gap in his district. According to a Patch article, his district reduced the gap between black and white students who score well on a standard New Jersey English test from 28.1 percent in 2010-11 to 24.6 the next year. In a math assessment, that gap narrowed 1.3 percent, Patch reported.
He has made it a goal of the district to increase the number of white students taking AP tests by 10 percent and the number of black students taking the test by 20 percent, although his district has struggled to make gains with black students. During his interview Monday, Osborne said that if a student does well in at least on AP course, it's an indicator of academic success.
4) What did his reference say?
"I have also seen him work with people and show humanity and toughness and understanding all at the same time. I believe he is uniquely principled in how he approaches his job. When I am in a moral or practical quandary, I call him." Andres Alonso, CEO of Baltimore City Public Schools.
Kellie Woodhouse covers higher education for AnnArbor.com. Reach her at kelliewoodhouse@annarbor.com or 734-623-4602 and follow her on twitter.