Posted on
Mon, Feb 18, 2013 : 5:58 a.m.
6 boarded-up houses on Ann Arbor's North Main Street slated for demolition by next month
By Ryan J. Stanton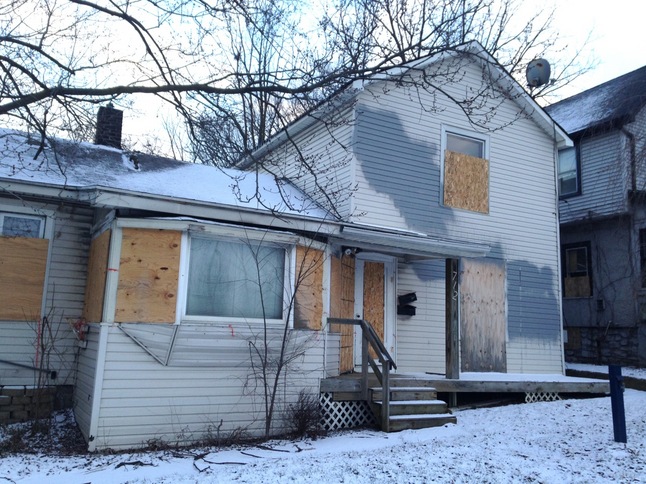 Ryan J. Stanton | AnnArbor.com
Six of eight boarded-up houses along the east side of Main Street north of downtown
Ann Arbor
will be
demolished by March 15
if all goes as planned.
Mayor John Hieftje said he'll be glad to see the blighted houses — reminders of the failed Near North affordable housing project — finally torn down.
He said he would have liked to see them removed from sight months ago, if not years ago, but it took longer than city officials and residents would have liked.
"I've been pushing on this issue for a while," Hieftje said. "It's not as easy to tear down buildings as anyone in the public might think. There are a lot of hoops to jump through and a lot of procedural steps to take, so I'm very happy this is moving along."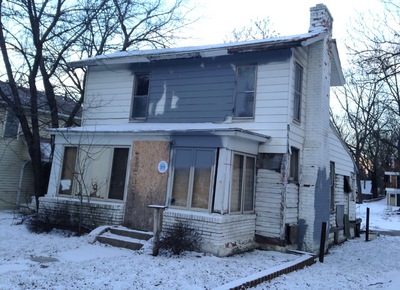 Ryan J. Stanton | AnnArbor.com
The
Ann Arbor City Council is expected to vote Tuesday night
to accept a $96,000 grant from the Michigan State Housing Development Authority.
The additional Neighborhood Stabilization Program funds from MSHDA can be used only for the demolition of structures deemed dangerous at 700-724 N. Main, and the city must complete the work by March 15, said Brett Lenart, the county's housing and community infrastructure manager.
"Furthermore, MSHDA may make additional money available to fund this demolition project, if necessary," Lenart wrote in a memo to council members.
The city previously received an allocation of $850,000 in NSP funds. In late 2012, MSHDA announced the opportunity for existing grantees to apply for unallocated NSP funds.
The city and the county submitted a request that resulted in the additional $96,000. Lenart said that brings the city's total NSP award to $946,000, the majority of which already has been spent — mostly on redeveloping abandoned or foreclosed residential properties.
Ann Arbor officials pledged last August to have all eight boarded-up houses demolished within 45 to 60 days. At the time, Ann Arbor-based nonprofit Avalon Housing and for-profit developer Three Oaks Group still had plans for a 39-unit affordable housing project called Near North on the site.
Less than a month later, the development team canceled those plans, citing troubles financing the project. Changes in floodway boundaries left the project ineligible for essential federal funds.
The eight houses from 626-724 N. Main St. are owned by a limited partnership between Three Oaks Group and Avalon Housing. County records show Three Oaks purchased the properties under various entities over the course of eight years for about $2.5 million.
The Near North property is now in a six-month redemption period after the lender, Great Lakes Capital Fund, foreclosed in November.
The city has declared six of the eight houses dangerous buildings. That means the two southernmost houses will remain standing.
City officials said the property owners have waived all proceedings and admitted the buildings are dangerous, but they're uncertain if Three Oaks and Avalon are completely walking away from the property or what the plans are for the two houses that will remain standing.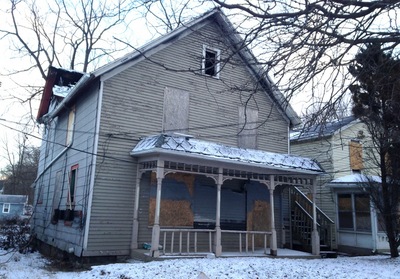 Ryan J. Stanton | AnnArbor.com
A spokesperson for Avalon could not be reached for comment. Representatives of Three Oaks have not returned phone calls or emails from AnnArbor.com in years.
The city was planning to pay for the demolition of the houses last year using a revolving blight fund established by the City Council. The city would have fronted the money for the demolition work and then tried to recoup its costs by putting a lien on the property.
Sumedh Bahl, the city's community services administrator, said the fact that the property went into foreclosure complicated matters. The city wasn't sure it would recoup its money.
"So instead of the city using city funds, this is the funds we will use," he said of the $96,000 in grant funding coming for the demolition.
By going that route, Bahl said, the property owners won't be billed for the demolition. He said it wasn't a goal of the city to hold the property owners harmless, though.
"We didn't think that way," he said. "What we thought was, we need to take care of this."
After the demolition work is complete, Bahl said, the city will plant new grass, so the site won't be an eyesore to passersby. It'll just be an empty green space.
The City Council voted unanimously in August to approve contracts with four separate contractors that are on standby to tackle demolition work for the city.
The four companies are Bierlein, DMC Consultants, Beal and Van Assche. Per the council's resolution, total expenditures per contractor cannot exceed $150,000 per year.
Hieftje said he remains hopeful that although the Near North project didn't work out, and the city is losing a row of houses near downtown that fell into disrepair over the last several years, another development on the site will move forward eventually.
He suggested the site would be a great location for new townhomes close to downtown — and across from where the city is planning to create a new greenway park at 721 N. Main.
"That area is going to be experiencing some good things," he said. "There is an edge of (the Near North site) that's prone to flooding, but a substantial portion of it is not."
Ryan J. Stanton covers government and politics for AnnArbor.com. Reach him at ryanstanton@annarbor.com or 734-623-2529. You also can follow him on Twitter or subscribe to AnnArbor.com's email newsletters.