Posted on
Mon, May 9, 2011 : 5:55 a.m.
Natural gas drilling technique called 'hydrofracking' comes to Michigan: 7 facts you should know
By Juliana Keeping
Water-intensive drilling techniques used for the first time in Michigan in the last year extract natural gas from deeper underground than ever before.
The new tactics could result in more natural gas used for generating electricity, heating homes and cooking. But water-intensive drilling tactics worry Ann Arbor environmentalists, said Marc Smith, a senior policy manager for the National Wildlife Federation's Great Lakes Regional Center in Ann Arbor.
Companies have drilled two exploratory wells in the northwest Lower Peninsula's Collingwood and Utica Shale within the last year that use high pressure "fracking" or hydrofracking to get at natural gas.
The depth, combined with the use of horizontal drilling, requires the injection of millions of gallons of water, plus a mix of sand and chemicals, to get to the gas-bearing shale in deeper, hard-to-reach spots underground.
Groups like the NWF are concerned about the environmental implications of the millions of gallons of water needed for hydrofracking; the possibility of predatory lease arrangements between private land owners and gas companies; and the environmental impact of secret chemicals used to help break up the gas-bearing shale.
The Ann Arbor office, along with other groups, is starting to push for more regulatory controls, Smith said.

NWF photo
The state says its regulatory process does a better job than other states at keeping environmental problems at bay and accidents at a minimum.
Hal Fitch, director of the office of geological survey within the Department of Environmental Quality said recently that he's been fielding more calls about fracking than ever before.
He attributed the increased interest to the 2010 documentary of natural gas drilling and its environmental and health implications, GasLand, as well as recent mine blowouts and toxic spills in states such as Pennsylvania.
Gas companies don't have to reveal the mix of chemicals in fracking fluids under state or federal laws, another concern for environmentalists like Smith. And nothing in state or federal law requires oil and gas companies to assess the impact of millions of gallons of water use on surface water near drilling sites.
Officials from the Michigan Oil and Gas Association did not return phone calls for this report.
In light of recent national discussion of hydrofracking and more than a dozen hydrofracking sites on the brink of exploration in Michigan, here are 7 things to know about fracking.
1. Natural gas drilling isn't new to the state. Gas-bearing shale formations have led to 12,000 wells being drilled since the 1960s, Fitch said.
2. Prospects explored in the deep Collingwood shale in the last year hold the potential to significantly boost Michigan's production potential, according to the Michigan Oil & Gas Producers Education Foundation.
3. The two high-pressure hydraulic fracturing operations in Michigan in the last year used about 5 million gallons of water each, as opposed to 50,000 to 100,000 gallons for more typical drilling operations.
4. A letter sent from NWF and other conservation groups in November 2010 asks the Michigan Department of Natural Resources and others to tighten regulations around hydrofracking sites, such as requiring assessments of water.
5. In Michigan, used fracking fluids are stored in steel tanks and later injected into hundreds of deep wells regulated by the state and the Environmental Protection Agency. This differs from Pennsylvania, where fluids are sent to wastewater treatment plants.
6. Michigan has issued permits to companies for around 15 more exploratory wells that would require hydrofracking, Fitch said, while more applications are pending. None of the permits issued so far has been in southeast Michigan.
7. The Michigan Natural Resources Trust Fund stands to benefit from increased natural gas production. It's subsidized by revenues from the oil and gas industry and used for recreation and conservation projects around the state.
What's your take on this issue? Leave a comment below and take our poll.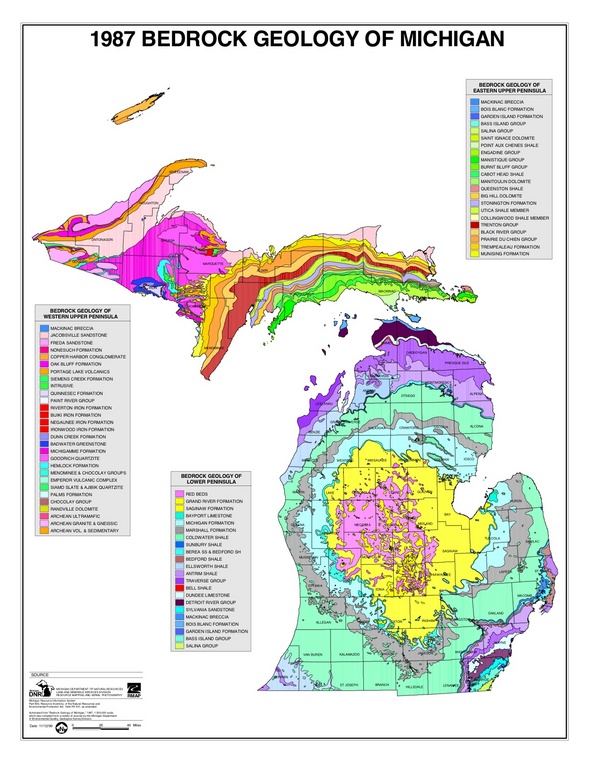 View a larger version of this map here.
Juliana Keeping covers general assignment and health and the environment for AnnArbor.com. Reach her at julianakeeping@annarbor.com or 734-623-2528. Follow Juliana Keeping on Twitter