Posted on
Tue, Jul 9, 2013 : 5:57 a.m.
Developer seeking tax credits for 80-unit affordable housing project in Ann Arbor
By Ryan J. Stanton

J Bradley Moore & Associates
A previously approved
affordable housing development
near Packard Road and US-23 in southeast
Ann Arbor
is showing signs of life again.
Burton Commons — a five-building, 80-unit apartment complex planned for 2805 Burton Road — appeared on the Ann Arbor City Council's agenda last week.
The council approved changes to the payment-in-lieu-of-taxes — or PILOT — plan for the project to increase affordability for lower-income tenants.
The developer now plans to apply for low-income housing tax credits from the Michigan State Housing Development Authority in August.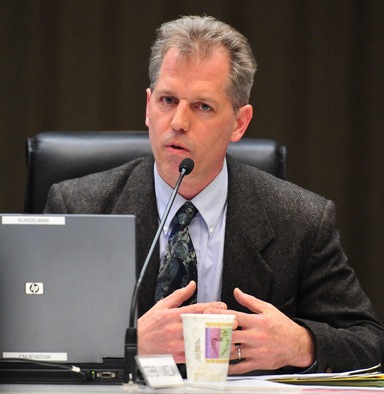 Ryan J. Stanton | AnnArbor.com
The PILOT provides an exemption from all property taxes for the term of the MSHDA agreement — not to exceed 50 years. That's subject to approval of the state tax credits.
Under the original PILOT approved by the city in July 2008, all of the units were to be occupied by households at 50 percent of the area median income or less — with 20 units set-aside as permanent supportive housing in partnership with Michigan Ability Partners and POWER.
According to the new plan, no longer will any of the units be set aside for supportive housing services, which typically include case management, job training, and drug and alcohol treatment.
The project is now expected to serve a mix of tenants ranging from extremely low-income (30 percent of AMI) to low-income (60 percent of AMI), said Brett Lenart, the county's housing and community infrastructure manager.
Lenart said the PILOT will not take effect until the financing is secured, the buildings are constructed and the units are occupied by qualified renters.
The owner continues to be the Ann Arbor Limited Dividend Housing Association Limited Partnership, but the development partner of MHT Housing — a Michigan-based nonprofit — has been replaced by Highridge Costa Housing Partners, according to a memo from Lenart.
Affiliates of Highridge Costa are the general and limited partners of the Ann Arbor Limited Dividend Housing Association Limited Partnership.
The California-based company has developed or invested in 275 affordable rental properties comprising approximately 27,000 affordable housing units, Lenart said.
Tom Erickson, senior vice president of Highridge Costa, said the development team really hasn't changed at all. It's just that instead of MHT Housing submitting the application for tax credits to the state, Highridge Costa will be doing it now — but with MHT still involved.
"They're going to be the general partner, and we're going to be the limited partner going forward. They submitted the application last time, and we'll be submitting it this time," Erickson said.
"We're the land owner and we never really stepped out of the development role," he added. "We've always either been the sole developer or we were a co-developer. They're the local nonprofit we're going to be using, but we've always been involved. We'll be the co-developer."
The development team was unsuccessful in securing funding for the project when it last applied in February 2012. It's a competitive process and other projects scored higher, Erickson said.
He said it's about a $15 to $16 million project and they're counting on $10 million or so in tax credits, plus a roughly $5 million loan from the U.S. Department of Housing and Urban Development.
The City Council approved the original site plan for Burton Commons in 2007. At the time, the plans included five three-story buildings with 120 units and 185 parking spaces.
Due to the nationwide housing financial crisis, city officials said, the developers never were able to secure the financing needed to build the apartment complex.
The developer received approval from the city in 2011 for revised plans that reduced the 120-unit project to five two-story buildings with 80 units and 145 parking spaces.
Erickson said the one thing that is not changing is the unit mix, which is 40 two-bedroom units and 40 three-bedroom units. He said they'll cater to a range of income levels.
10 percent will be at 30 percent of AMI
20 percent will be at 40 percent of AMI
40 percent will be at 50 percent of AMI
30 percent will be at 60 percent of AMI
The site plan for Burton Commons received a two-year extension from the city in 2011, and that expires on Dec. 28, said Wendy Rampson, the city's planning manager. She said the developer will have to pull building permits before then or seek another extension to the site plan.
The city doesn't have a limit on the number of times a site plan can be extended. But each time that happens, it's reviewed by city staff for compliance with current city codes.
City Council Member Stephen Kunselman, D-3rd Ward, said he's not necessarily excited about the project, nor is he necessarily opposed to it.
"There's a lot of ambivalence with that project because it's been out there for so long," he said. "I think it's something that the neighbors have had some issues with on the connections on Eli Street, but I think it is what it is and we'll kind of have to keep tabs on it."
Kunselman said it's for the private market to determine if there's a need for more affordable housing in southeast Ann Arbor.
"Obviously they haven't been able to come up with funding," he said. "If all of a sudden there's funding now, what's ironic is they're tapping into the same sort of funds that the Ann Arbor Housing Commission is hoping to tap into, so there's a lot of competition when it comes to that."
He added, "The question I asked originally was — what is the vacancy rate in apartment buildings out that way, and how can you afford another apartment building when there's high vacancy rates?"
Erickson said market studies indicate there's a need and he's confident they'll fill the units quickly at the rents they'll be charging and the income levels they're targeting.
"We're just hoping to get a winning application in so we can get this project going," he said. "We have a great team and I think it's going to be a great project."
Project architect Brad Moore of J Bradley Moore & Associates agreed.
Ryan J. Stanton covers government and politics for AnnArbor.com. Reach him at ryanstanton@annarbor.com or 734-623-2529. You also can follow him on Twitter or subscribe to AnnArbor.com's email newsletters.